AZZURRO Semiconductors issues technical status report on product progress for high voltage GaN-on-Si. wafers
Press release
Wednesday 2 May 2012
AZZURRO has proven a good correlation and consistency between previous published market superior results (June/2011) and his new reactor cluster. Technical parameters: vertical breakdown voltage, Leakage current, sheet resistance and wafer physical characteristics such as bow on large wafer diameters have shown repeatable good results. The fundamental excellent research done to achieve superior crystal quality and being able to thick overgrow the wafer substrates were pivotal to these achievement.
Moving from a single wafer reactor to a multi-wafer system has proven in the Epitaxial world not an easy task, temperature profiling for larger chambers, gas-flow management and ultimately a non-stop operation are 'know-how' assets to assure wafers of equal quality over larger lot sizes can be continuously made available to the market and our customers. AZZURRO has collected enough data to prove his concept is complying with these requirements. Single digit deviations wafer to wafer, and on-wafer homogeneity are measureable results of this migration exercise.
Having understood the fundamentals for the GaN-on-Si. Production process we would like to demonstrate the achievements on technical parameters: breakdown voltage and relationship to the leakage current.
AZZURRO Wafers today are targeting the 600 Volt application markets, such as SMPS (Switched Mode Power Supply) for computers, servers, and laptop. 3-Phase bridge applications for instance Motor Inverters for white good: washing machines, air conditioning and other kind of micro inverters for private, low and medium power use. This is by far the largest market and may count for 65-70% of the overall market in dollar size; typical devices may be in the 5-20 Amp. range. The developments have shown potential beyond 600 V for hybrid automotive applications and other systems requiring a higher breakdown up to 1200/1700 V.
The breakdown voltage is intrinsically coupled with leakage current, increasing as voltage (Vds) increases. A typical leakage current of devices need to target of around 1 uA at switched off state. The picture below shows the value achieved by AZZURRO 2nd. generation product fulfilling this requirement and a numerical proof of the technology and capabilities. Looking into the details, our initial target of 1 µA is exceeded by 10 fold and assures that other leakage currents on device level, separate from the epitaxial vertical current can offer the design engineer large, additional, margins.
AZZURRO Strain management technology has proven repeatable and practical to implement. Several tests done have resulted in BOW figures equal to an experimental, single wafer reactor previously used. These results show that the manufactured wafers can be processed in standard CMOS processing lines adding to the attractiveness of the technology not only for technical performance but as well validating it as a unique business chance for existing power device players and new comers in the market.
AZZURRO sees traction for his products increasing on a worldwide scale and is pleased to give you further details. A full presentation will be available during the occasion of the PCIM (Power Control and Intelligent Motion) in Nurnberg Germany from 08-10 May 2012 where you can find the AZZURRO booth at HALL 12 Stand 664.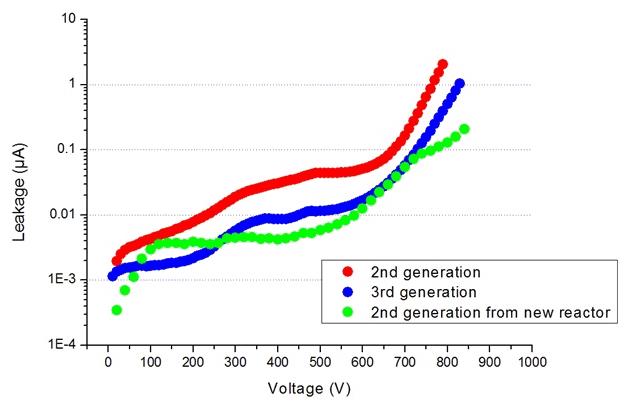 Vertical Leakage current (I Leak) versus Breakdown Voltage (Vbr)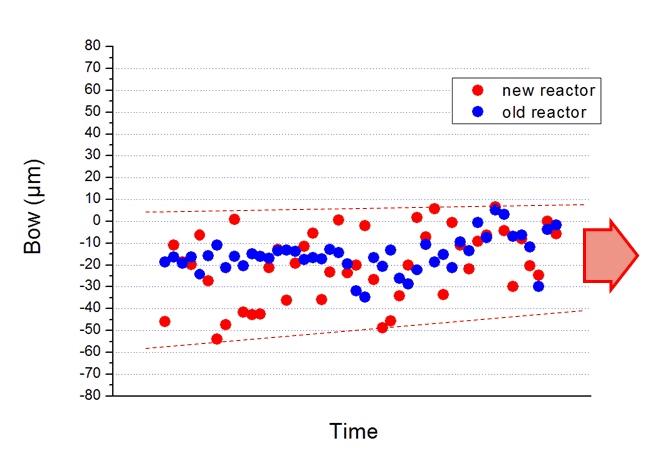 Wafer Bow Improvement Progress by Units Produced
DIGITIMES' editorial team was not involved in the creation or production of this content. Companies looking to contribute commercial news or press releases are welcome to contact us.