Digitimes Insight: Limited wafer availability good for DRAM industry
Nobunaga Chai, DIGITIMES Research, Taipei
With major silicon wafer plants remaining closed following the recent earthquake and tsunami that struck Japan, there is growing concern in the memory industry whether chip companies are preparing for any possible disruption to production.
Potential wafer supply disruptions may actually push the memory industry, especially the DRAM sector, to reach a balance between supply and demand. There has been a substantial rise in DRAM supplies since the second half of 2010.
Digitimes Research previously forecast that the DRAM industry would be dogged by oversupply as chipmakers ramp up output through conversions to new technology nodes. Worldwide DRAM supply would exceed demand by 28% in 2011, according to estimates made in January 2011.
Major DRAM producers plan to grow their capacity for 2011 between 40% and 70%, with any of their output growth expected to outpace the rise in overall demand.
As for NAND flash, a short supply of silicon wafers would just soften chipmakers' efforts to increase their capacity in 2011. Major NAND-chip producers including Samsung Electronics, Toshiba and Hynix are all gearing up to enter the 20nm-class technology era in 2011. Samsung, Toshiba and Micron Technology are also looking to implement their new fab plans.
Despite concerns about wafer supply disruptions caused by the earthquake, the NAND flash industry is still expected to see its overall bit growth reach 78% in 2011 to 9.33 billion GB.
Shin-Etsu Handotai's (SEH) main silicon wafer plant in Fukushima Prefecture remains closed with no time-frame for when it will re-open, according to parent company Shin-Etsu's latest statement about SEH's business status following the earthquake. Monthly capacity at the facility accounts for more than 60% of SEH's overall production capacity.
Sumco has been less affected due to its main factory sites being located away from quake-hit areas. Production at its damaged plant in Yamagata Prefecture has been shifted to other plants in the Kyushu region, according to Sumco's most recent status update.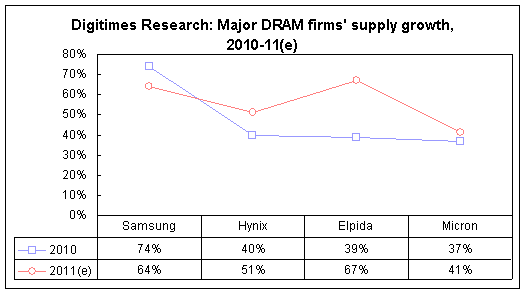 Source: Digitimes Research, March 2011