China driving MOCVD demand in 2011, says new report from Digitimes Research
Press release, DIGITIMES, Taipei
Tuesday 8 March 2011
As global penetration of LED TV's increases and LEDs get ready to take the lighting sector by storm, global demand for metal organic chemical vapor deposition (MOCVD) has been increasingly markedly since 2010, according to a recently published DIGITIMES Research Special Report titled "Survey of upstream LED component industry."
The report notes that global demand for MOCVD equipment increased by a staggering 277%, from 212 units in 2009 to around 800 units in 2010. DIGITIMES Research explained that the main reason behind this is that LED manufacturers in regions of Asia such as South Korea, Taiwan and China are actively expanding MOCVD equipment capacity.
Over the last two decades, LEDs have gone from obscure components to indispensable parts of everyday life. Today, everything from computer and TV screens to household lighting and even car parts contains LEDs, and this increase in demand is driving a boom in upstream components, materials and equipment for the LED sector. The most critical of these are LED components themselves, chiefly chips and packaging; the artificial sapphire materials from which key LED components are made; and the MOCVD equipment (reactors) used in their manufacture.
In the context of this booming demand, a sea change is taking place within these industries. World leaders in sapphire production such as US-based Rubicon are expanding capacity while focusing on profitability. The traditionally strong Japan-based manufacturers such as Toyoda Gosei and Nichia are facing new challenges from increasingly technically sophisticated and commercially ambitious competitors based in Taiwan and South Korea; while the Taiwan and Korea-based manufacturers are expanding capacity and developing their own technologies, with government assistance in some cases. Moreover, a new wave of China-based companies is emerging, many of which will find themselves ideally placed to capitalize on the LED boom, as a result of the government subsidies they are receiving, and their undeniable advantages in terms of labor costs and proximity to customers. The LED industry recovered quickly from the recent global financial crisis, but has also faced challenges from recessions around the world, and rising prices of vital rare earth materials, further complicating the picture.
The DIGITIMES Research Special Report brings together all these complex threads, providing an understanding of the key issues and major players that are reshaping the upstream LED industry. The report provides a clear overview of the industry and forthcoming trends on both a company-by-company and region-by-region basis, accompanied by a wealth of easy-to-read charts, useful data and incisive analysis.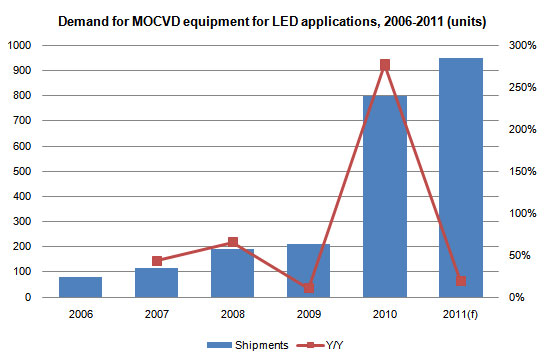 Source: Digitimes Research, February 2011
For more information about the report
About DIGITIMES Research
DIGITIMES Research is the research arm of DIGITIMES Inc., Taiwan's leading high-tech media outlet. Operating as an independent business unit, DIGITIMES Research focuses on monitoring key high-tech industries, while also guiding clients toward suitable new business as well. Market intelligence and analysis is provided to more than 1,000 corporate customers worldwide. Research and consulting services cover a full range of industries, including information and communications technology (ICT), flat panel display (FPD), renewable energy and semiconductor design and manufacturing.
Contacts:
Michael McManus (Michael.mcmanus@digitimes.com)
Shannen Yang (Shannen.yang@digitmes.com)