Toshiba to reinforce sales and marketing in China
Press release; Yvonne Yu, DIGITIMES
Thursday 16 December 2010
Toshiba has announced that the company will aim for sales of two million LCD TVs in the China market in the fiscal year of 2011 ended March 2012 - four times its current target for 2010 fiscal year ended March 2011. The company expects to achieve this and to meet diverse market needs by introducing a broad line-up of nine series and a total of 24 models, including high value added TVs. In addition to the standard models offering excellent cost performance that it started to market in October this year, Toshiba will launch its new flagship LCD TV, the 55X1000C, late December. This high-end model inherits the key concepts of the Cell Regza TV, Toshiba's top-of-the-line model in Japan, and brings them to an overseas market for the first time.
The China LCD TV market is growing at a brisk pace, and is expected to surpass the US as the world's largest TV market in 2010 fiscal year. In order to take maximum advantage of high-growth opportunities, Toshiba has established Toshiba Visual Products (China) (TVC), a sales and marketing joint venture with China-based TCL. The joint venture started operation on October 1, 2010 and will expand Toshiba's sales network in China's coastal region and its huge hinterland. TVC will put in place a nationwide network of mass merchandisers and smaller outlets, with the goal of expanding Toshiba's current network of about 2,200 stores to a total of 15,000 by 2013 fiscal year.
With its superb picture and sound quality, the 55-inch 55X1000C was expressly designed to meet China's high-end home entertainment market. The new TV features a mega LED-backlit panel and employs Toshiba's newly developed new Regza Engine, a high-performance multi-processor platform that draws on the company's extensive experience in semiconductors and software to deliver outstanding image quality, sharp, realistic 3D, and excellent sound. The 55X1000C also features a 2D to 3D conversion system that allows users to enjoy 3D images generated from conventional 2D content.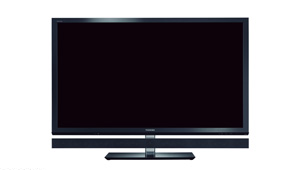 Toshiba 55-inch LED TV, 55X1000C
Photo: Company