Computex 2010: Aiptek to showcase mobile projector and pocket-size 3D HD-DV
Press release, staff reporter, DIGITIMES, Taipei
Wednesday 2 June 2010
At Computex Taipei 2010, projector specialist Aiptek is introducing its new PocketCinemaZ20 globally. The Pocket CinemaZ20 combines a mobile projector and HD camcorder, providing easy-to-use solutions for business presentations or personal entertainment. The company is also unveiling its ground-breaking Aiptek 3D i2 worldwide. The company claims the Aiptek 3D i2 is the world's first pocket-size 3D HD-DV to integrate 2D and 3D camcorder technologies.
The PocketCinema Z20 is a pocket-sized multimedia projector with built-in camcorder that provides remarkable high definition video recording at a resolution of 720p. In addition, it allows users to capture still images at a resolution of 8-megapixels. The new RGB LED technology offers a wide range of colors in high contrast and also can throw clear images of up to 65 inches within a short distance range of two meters. Pictures, videos and documents can be easily stored on the built-in 2GB drive and memory capacity can be expanded by using a MicroSD card up to 32GB.
The PocketCinemaZ20 is extremely portable, with dimensions of 125x62x24mm and weighs only 250 grams including battery. The ergonomic design features touch buttons with LEDs underneath and the battery lasts 120 minutes when fully charged. The ultra mobile AC power adapter design enables easy recharge of the Li-lon battery.
The 3-in-1 AV jack enables quick connection and supports most media players, video equipment and notebooks. Apple iPod/iPhone and HDMI devices can also be easily connected through optional accessories.
Everyone can make their own 3D movies
The Aiptek 3D is a 3D HD-DV that is different from any camcorder on the market. The device is equipped with two lenses for filming both high quality 2D and 3D images. The camcorder provides 5-megapixels CMOS image sensors with selectable high definition 2D and stereoscopic 3D video recording at a resolution of HD 720p. In addition, it gives you a quick and easy access to capturing still images at a resolution of 5-megapixels. The 2.4-inch 3D panel makes it a joy to view 3D live without the need for eyewear and also features an easy playback function that is switchable from 2D to 3D. The new 3D camcorder comes at an affordable street price starting at US$199.
Those without a 3D TV can utilize the built-in software to upload stereoscopic 3D videos to YouTube 3D simply by pressing a single button. Users can enjoy 3D red/cyan effects on their PCs with glasses included with the device. The memory capacity can also be expanded with a SD/SDHC card up to 32GB.
The AIPTEK 3D i2 is ultra-compact, with dimensions of 118x72x23(mm) and it weighs only 250 grams including battery. The built-in USB plug enables easy recharging and connecting to a PC for data sharing. The battery lasts 120 minutes when fully charged.
The company's new 3D product lineup, including the 3D HD-DV, a 3D photo frame and 3D PC Camera, will be shown in the 3D Special Zone at Computex Taipei 2010, at Booth B1030 in Hall 1. Aiptek's full product lineup will be at its booth (Hall 1, B1030).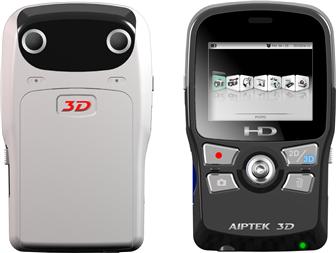 Aiptek 3D i2 is world's first pocket-size 3D HD-DV to integrate 2D and 3D camcorder
Photo: Company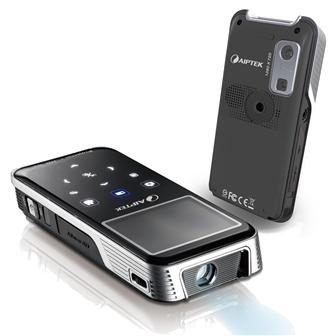 Pocket CinemaZ20 combines a mobile projector and HD camcorder
Photo: Company