AMD announces ATI FirePro V8800 for professional graphics market
Press release, April 8; Joseph Tsai, DIGITIMES
Thursday 8 April 2010
AMD has announced the launch a new member of its ATI FirePro professional graphics solutions that features ATI Eyefinity technology, the ATI FirePro V8800.
The ATI FirePro V8800 is priced at US$1499 and can deliver 2.6 teraflops of raw computing power with a memory bandwidth of 147.2 GB/s – more than two times the compute power of the previous generation – making it the ideal solution for manipulating large and complex photorealistic models in real-time, said AMD.
In the coming months AMD said it plans to round out its next-generation ATI FirePro family, offering a number of solutions to meet the various 2D and 3D needs of professionals working in CAD, digital content creation (DCC), broadcast, medical imaging and financial services.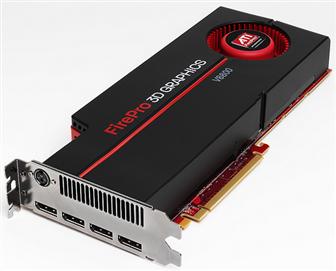 AMD ATI FirePro V8800 graphics card
Photo: Company