AMD announces new FirePro graphics card for high-end markets
Press release, March 27; Joseph Tsai, DIGITIMES
Friday 27 March 2009
AMD has announced the availability of the ATI FirePro V7750 graphics accelerator for the high-end market, which it said is ideally suited for graphics professionals working in engineering, digital content creation and scientific fields.
The ATI FirePro V7750 features multiple DisplayPort outputs and a Dual Link enabled DVI output, which together, enable a multi-monitor desktop of more than 5000 pixels wide in a single-slot form factor.
With 1GB of frame buffer memory and a 30-bit display pipeline, the ATI FirePro V7750 enables rendering of more accurate color reproduction and visual quality of complex and large data sets, claimed AMD.
The new ATI FirePro V7750 graphics accelerator is available now with a price of US$899. ATI FirePro graphics accelerators are available from OEMs, system integrators and channel partners worldwide.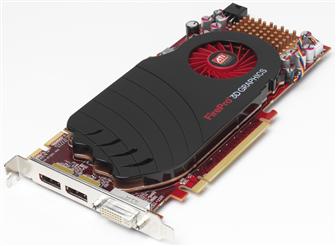 AMD ATI FirePro V7750 graphics card
Photo: Company