Intel unveils digital signage concept
Press release, January 12; Joseph Tsai, DIGITIMES
Intel has demonstrated a new 7-foot-6-inch multi-user, multi-touch Intel Intelligent Digital Signage concept at the National Retail Federation Convention (NRF) in New York. Intel said the prototype device could change the way people interact with digital signage technology in environments such as stores, airports, banks and hotels.
Multiple consumers can use this side-by-side window display simultaneously to explore augmented reality-enabled maps of each floor of the store, on which retailers can superimpose images such as coupons and sales promotions next to product visualizations on the glass, improving the customer's shopping experience, Intel said.
Intel's digital signage concept also brings a new opportunity for advertisers through the use of anonymous video analytics. As a viewer looks at the system screen, a built-in camera analyzes data such as gender and age, audience composition, time-of-day and other criteria, which enables the system to display tailored content and graphics based on estimated demographics. The system anonymously sends audience information to advertisers who can use that information to understand the type of content and messages that are most popular with viewers. This, in turn, helps advertisers target their advertising to maximize the impact on the audience.
The media player platform, integrated in Intel's concept, is running on the recently released Intel Core i7 processor and the Microsoft Windows Embedded Standard 2011 platform optimized for digital signage applications. The jointly developed platform is expected to be available in the second quarter of 2010.
Digital signage systems based on 2010 Intel Core processors would also include Intel vPro Technology with Intel Active Management Technology, allowing administrators to manage systems remotely even when powered down, which reduces operational costs and increases energy savings, Intel noted.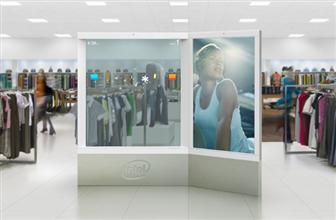 Intel Intelligent Digital Signage concept
Photo: Company