TCA expects Computer Application Show to create business opportunities
Ninelu Tu, Taipei; Joseph Tsai, DIGITIMES
Thursday 23 July 2009
The Taipei Computer Association (TCA) expects its upcoming Taipei Computer Application Show (TCAS), which will be held from July 30 to August 3 at Taipei World Trade Center Exhibition Hall 1, to bring in business opportunities worth NT$8.8 billion (US$268.9 million).
TCA cited a survey that showed around 80% of the expected visitors are willing to making purchase at the show.
Notebook vendor Asustek Computer will launch its 11.6-inch Eee PC 1101HA netbook and UX30 ultra-thin notebook at the show, while Hewlett-Packard (HP) will also launch its 11.6-inch Mini 110 netbook.
Asustek recently introduced two new Eee PC seashell models – the Eee PC 1101HA and Eee PC 1005HA – sporting 11.6- and 10.1-inch LED-backlit screens, and with claimed battery lives of 11 and 10.5 hours on a single charge.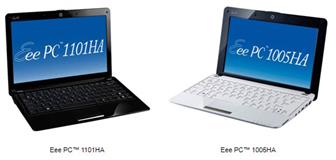 Asustek 11.6-inch Eee PC 1101HA and 10.1-inch Eee PC 1005HA netbooks
Photo: Company