Zyxel debuts WiMAX residential Gateway with Sprint's Xohm service
Press release, October 1; Michael McManus, DIGITIMES
Wednesday 1 October 2008
ZyXEL Communications will debut its WiMAX MAX-206M2 WiMAX MIMO residential gateway with the launch of Sprint's Xohm service this week in Baltimore and the company is showcasing its complete line of WiMAX solutions this week during WiMAX World in Chicago.
Zyxel's WiMAX line of products include outdoor CPE, SOHO VoIP routers, SIP-based camera and PC cards.
Along with Intel, Samsung and Nokia, Zyxel is a device partner for Sprint's recently launched Xohm WiMAX service in the US. The company indicated that its MAX-206M2 router provides users with seamless broadband wireless connectivity and the freedom to surf the Internet and access any information at home, in the office or anywhere under WiMAX coverage. The MAX-206M2 gateway comes with dual 5dBi gain antenna integrated into the device with 27dBm output power and a built-in ICSA certified firewall. Its design includes two VoIP ATA ports as well.
ZyXEL's MAX-206 series CPEs are the world's first WiMAX Forum certified mobile devices that provide the highest link budget while WiMAX networks are still in the early stage of deployment, the company added.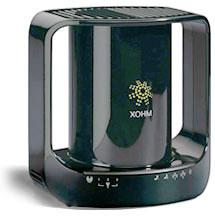 Zyxel MAX-206M2 router provides users with seamless broadband wireless connectivity
Photo: Xohm, September 2008