Acer announces Aspire X1200 desktop PC for home entertainment
Press release, July 9; Joseph Tsai, DIGITIMES
Wednesday 9 July 2008
Acer America has announced the Acer Aspire X1200, a compact entertainment center with prices beginning at US$450.
Offering powerful desktop components and expansion capabilities in a small box, the Acer Aspire X1200 desktop enables users to enjoy high-definition movies, games and theater-like sound while maximizing space in the home, said the company. Featuring AMD dual-core processors, Nvidia GeForce 8200 onboard graphics and PCI Express (PCIe) 2.0, it is ideal for entertainment enthusiasts and space-conscious consumers desiring phenomenal performance in an environmentally-friendly design, according to Acer.
Providing room for expansion, the system offers two PCIe slots (x1 and x16) and for easy access and reach, five USB 2.0 ports, a multi-in-1 card reader, IEEE 1394 port and audio jacks are located on the front of the PC, the company highlighted. Four additional USB 2.0 ports are positioned at the back.
Unlike similar small form factor (SFF) PCs that leverage mobile components with higher costs and lower performance, the Aspire X1200 offers a choice of models that scale up to an AMD Athlon X2 5000 processor and up to 4GB DDR2 memory. The AMD processors support downloadable AMD Live! applications for recording, transferring, sharing and organizing photos, videos and music.
Acer Aspire X1200 specifications

Model

X1200-U1520A

X1200-U1510A

X1200-B1581A

Price

US$449.99

US$459.99

US$699.99

CPU

AMD Athlon X2 Dual Core 4850e

AMD Athlon X2 Dual Core 5000+

AMD Athlon X2 Dual Core 4850e

VGA

Nvidia GeForce 8200

Nvidia GeForce 8200

NvidiaGeForce 8200

Memory

4GB DDR2

4GB DDR2

4GB DDR2

Hard drive

320GB SATA

320GB SATA

320GB SATA

Display

None

None

22-inch widescreen LCD display
Source: Company, compiled by Digitimes, July 2008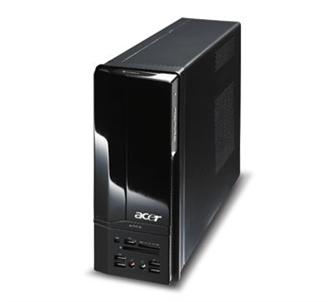 Acer Aspire X1200
Photo: Company