Ibase announces quad-core CPU networking motherboard
Press release, July 1; Joseph Tsai, DIGITIMES
Tuesday 1 July 2008
Ibase Technology has announced its MB935 motherboard, an Intel Q35 Express chipset-based networking platform supporting Intel Core 2 Quad and Core 2 Duo processors and has six Gigabit Ethernet ports, delivering high performance while enabling low-power and quieter systems in network service applications, according to the company.
Adopting the Intel Q35 Express chipset, the MB935 supports LGA775 Intel Core 2 Quad or Core 2 Duo processors with core frequencies up to 4GHz and FSB up to 1333MHz. The motherboard also supports four DDR2 667/800 DIMM modules and six Intel 82574L network controllers and four SATA connectors onboard.
Additional expansion is available to support two to four PCI slots with the IP325 backplane bridge board. Other features include four USB 2.0 ports, four COM ports, and a watchdog timer.
Ibase MB935 motherboard specifications

Item

Detail

CPU

Supports Intel Core 2 Quad / Core 2 Duo / Celeron 400 sequence processors

FSB

800MHz/1066MHz/1333MHz

Memory

4x DDR2 DIMM support up to 8GB

LAN

6x Intel GbE LAN, LAN1/LAN2 Bypass

VGA

Integrated VGA, CRT support

Ports

4x SATA, 4x COM, 4x USB 2.0, 1x IDE, 1x CF socket and 1x PCI32 interface for backplane
Source: Company, compiled by Digitimes, June 2008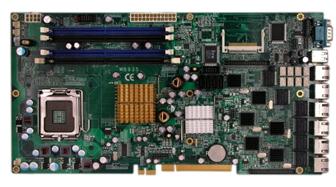 Ibase MB935 motherboard
Photo: Company