Computex 2008: Self-developed technologies helping Dexin in niche mouse market
Joseph Tsai, DIGITIMES, Taipei
Taiwan-based mouse maker Dexin is showcasing several mouse products for gaming and office use at Computex 2008.
Dexin's ML130G gaming mouse features the company's self-developed technologies, including onboard memory, which can store up to four custom presets; a resolution switch, which allows instant resolution changes without the need to restart running programs; and an LED indicator, which shows the resolution the user is currently using on the side of the mouse. The company is also showcasing its office mouse which has special buttons for use in Microsoft PowerPoint presentations and a laser pointer.
Dexin currently focuses only on ODM business and its partners include Taiwan-based Acer and Micro-Star International (MSI), and Europe-based Saitek for gaming-based products, and Hewlett-Packard (HP) for its office-based products. With mouse makers in China using larger volumes and cheaper prices to grab market share, Dexin has decided to head into niche markets and focus on researching and developing its own technology to distinguish itself from other makers.
Representatives at the company's booth at Computex noted that all the company's self-developed technologies are patented in Taiwan, China, Germany and the US and the company believes these technologies will provide the company an advantage over its competitors.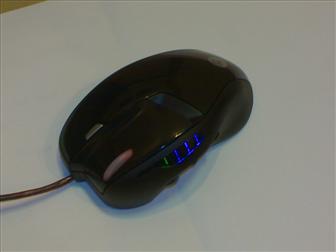 Dexin ML130G gaming mouse
Photo: Echo Wang, Digitimes, June 2008