Leadtek launches TV tuner card
Press release, January 11; Joseph Tsai, DIGITIMES
Friday 11 January 2008
Leadtek Research has launched a brand new TV tuner card – the WinFast PVR2100 – which supports analog TV reception including PAL, NTSC and SECAM, while it can also receive FM radio. With built-in MPEG2 encoding hardware, users can record videos with the minimal system workload, highlighted the company.
The TV tuner card comes with Leadtek's exclusive WinFast PVR2 software which enables users to change their settings in a two-layer user-friendly menu. Live Broadcasting software can turn a PC into a TV broadcasting station and let the users share their videos with their family and friends. Finally, DirectBurn software allows users to transfer home videos and movies from camcorders, VHS tapes, and personal DVDs into a blank CDs or DVDs, the company said.
The card also features TwinView technology to provide PIP (picture in picture), POP (picture on picture) and PAP (picture and picture) viewing options, noted the company.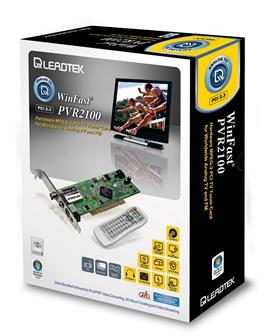 Leadtek WinFast PVR2100 TV tuner card
Photo: Company