NEC introduces 65-inch LCD for digital signage applications
Press release, December 4; Greg Wu, DIGITIMES
NEC Display Solutions of America, a stand-alone provider of commercial and residential LCD, plasma and projector displays, and a digital signage solutions, announced today its largest LCD yet, the 65-inch NEC MultiSync (LCD6520).
The LCD6520 is embedded with NEC's Digital Signage Technology Suite (DSTS), which includes more than 20 features and functions developed specifically for digital signage, with the display targeting applications including the transportation, corporate, medical, retail, and hospitality markets.
With the addition of an expansion slot that provides the option for additional technology components, the LCD6520 provides flexibility for adopting technologies such as IPTV, or for the insertion of small form-factor PCs, media players or additional input configurations.
This new display features a 1920×1080 Full HD resolution with a 2000:1 contrast ratio, 6-millisecond response time, and supports both digital and analog inputs. The display is available in both portrait and landscape models.
The NEC MultiSync LCD6520 is available in a black cabinet and is backed by 24-hour/day 7-day/week customer service and technical support. The 65-inch display includes a standard three-year warranty. One- and two-year extended warranties are also available.
The LCD6520L-AV and LCD6520P-AV are available for shipping with an estimated street price of US$18,499 and US$19,999, respectively.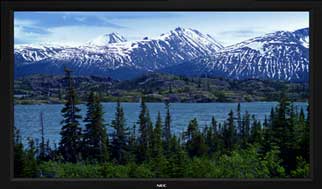 NEC Display Solutions MultiSync LCD6520L-BK-AV
Photo: Company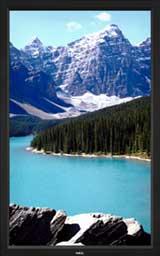 NEC Display Solutions MultiSync LCD6520P-BK-AV
Photo: Company