Leadtek announces a new graphics card based on GeForce 8600 GT GPU
Press release, October 1; Joseph Tsai, DIGITIMES
Monday 1 October 2007
Leadtek Research has announced a new mid-range graphics card, the WinFast PX8600 GT TDH HDMI. The card supports HDMI, the company highlighted.
Based on 80nm technology and powered by Nvidia's GeForce 8600 GT GPU, the WinFast PX8600 GT TDH HDMI comes with 256MB DDR3 in video memory and GPU/memory clock rates of 540/1400MHz, said Leadtek.
With Leadtek's original and exclusive fansink design, the card's cooling system results in a 16-degrees Celsius lowering of GPU temperature and ultra-quiet noise levels compared to other cards, Leadtek claimed.
The card also features Nvidia PureVideo HD technology for smooth video, accurate color, and vivid image scaling for movies. It enables playback of HD DVD, Blu-ray Disc and other protected content at full HD resolutions with integrated HDCP support. In addition, with an integrated HDTV encoder and Dual-Link DVI-I connectivity, it provides TV-out functionality up to 1080p resolutions and supports a 30-inch LCD monitor at a 2560×1600 resolutions.
For better visual experience all round, the new card also complies with the Nvidia Lumenex Engine to offer stunning image quality and floating point accuracy at ultra-fast frame rates, said Leadtek. In terms of state-of-the-art high dynamic range (HDR) lighting, it allows complex effects for cinematic reality, bringing environments to life for an incredible hyper realistic experience, the card maker added.
Pricing for the card is US$159.
Leadtek WinFast PX8600 GT TDH HDMI graphics card specification

Item

Detail

Graphic Bus

PCI Express

GPU

Nvidia GeForce 8600 GT

GPU Clock

540MHz

Memory Clock

700MHz

Memory Data Rate

1400MHz

Memory Size

256MB GDDR3

Memory Interface

128-bit

Stream Processors

32

DirectX Support

DirectX 10.0 and Shader Model 4.0

Output

Dual-link DVI-I , HDMI , SPDIF-in, HDTV
Source: Company, compiled by Digitimes, October 2007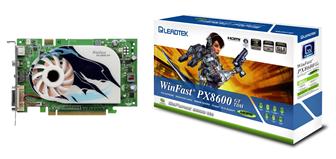 Leadtek WinFast PX8600 GT TDH HDMI graphics card
Photo: Company