Leadtek announces new TV tuner card
Press release, August 27; Joseph Tsai, DIGITIMES
Monday 27 August 2007
Leadtek Research announced its latest TV tuner card, the WinFast DVR3100 H, which supports digital terrestrial, analog TV, DVB-T, FM radio, stereo/SAP and HDTV/AC3.
The card is powered by a hardware MPEG-2 encoder, according to the company. An exclusive multiple video processing mode enables two TV cards and up to four channel program processing simultaneously, noted Leadtek, adding that an all-in-one I/R sensor remote control offers comfortable viewing.
The WinFast DVR3100 H offers functions like time shifting and scheduled power-up. The WinFast Mobile Video Express pack, which includes an iPod and PSP video converter, assists consumers carry and watch their favorite TV/video on an iPod or PSP, according to Leadtek.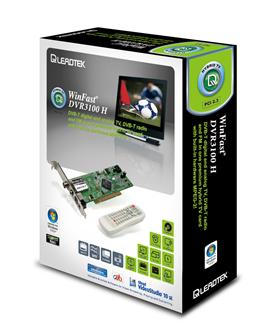 Leadtek WinFast DVR3100 H TV tuner card
Photo: Company