Acer launches new widescreen LCD monitor series
Press release, September 13; Emily Chuang, DIGITIMES
Acer America recently introduced the new P series LCD monitors which are ideal for home and educational environments, along with multimedia, gaming and video applications, according to the company.
The new P Series includes four widescreen sizes – 19-, 20-, 22- and 24-inch –each outfitted with either HDMI or DVI for high-definition (HD) capabilities and multimedia use.
The Acer P series displays are available now. Pricing starts at US$229.99 for the P191Wd, US$269.99 for the P201Wd, US$329.99 for the P221Wd, and US$499.99 for the P241Wd.
Acer's new widescreen LCD monitor series key specifications

Item

Details

Model name

P191Wd

P201Wd

P221Wd

P241Wd

Screen size (inch)

19

20

22

24

Resolution

1440×900

1680×1050

1680×1050

1920×1200

Brightness (nits)

300

300

300

400

Contrast ratio

2,000:1

2,500:1

2,500:1

3,000:1

Response time (ms)

5

5

5

2

Viewing angle (H/V)

160/160

160/160

170/160

160/160

Quotes (US$)

229.99

269.99

329.99

499.99

Inputs

VGA and DVI (with HDCP)

VGA and DVI (with HDCP)

VGA and DVI (with HDCP)

VGA and HDMI inputs
Source: Company, compiled by Digitimes, September 2007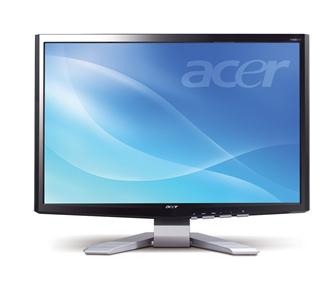 Acer's new widescreen monitor series
Photo: Business Wire