Sony Ericsson introduces new handsets
Press release, March 28; Eric Mah, DIGITIMES
Sony Ericsson announced on March 26 its new W580 slider Walkman phone and Z750 clam shell handset, the company's first Tri-band HSDPA phone for the North American market.
The W580 Walkman phone is a 2.5G, Quad-band EDGE device (850/900/1800/1900) and features a 2-inch color screen. At 14mm thick, the phone features a 2.0-megapixel camera and a built-in FM radio with RDS. The W580 ships with a 512MB Memory Stick Micro (M2) and comes in white or gray with orange color accents and light effects along the sides.
The Z750 is a tri-band HSDPA (850/1900/2100), Quad-band EDGE (850/900/1800/1900) phone and is Sony Ericsson's first handset to offer push email, according to the company. The phone features a 2.0-megapixel camera a 2.2-inch screen, and like the W580, comes with a built-in radio with RDS. The Z750 comes in grey or pink.
The Z750 is Exchange ActiveSync enabled and supports wireless synchronization and direct push email, calendar and contacts. Moreover, it also includes support for Java push mail solutions provided by third parties and leading email standards, such as POP/IMAP, according to Sony Ericsson.
The Sony Ericsson W580 will be available in selected markets from the third quarter of 2007 while the Z750 will be available first in North America before wider distribution to other global markets later in the year.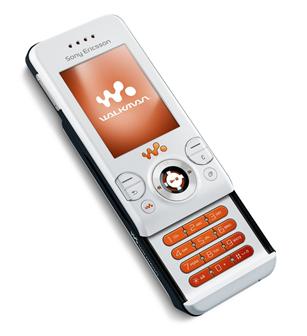 The Sony Ericsson W580 slider Walkman phone
Photo: Company
The Sony Ericsson Z750 clam shell handset
Photo: Company