Sony Ericsson releases new Bluetooth headsets
Press release, February 7; Eric Mah, DIGITIMES
Sony Ericsson released three new Bluetooth headsets, the HBH-PV702, HBH-PV710 and HPM-75, on February 6.
Lightweight, compact, and long-lasting talk and stand-by times make the HBH-PV702 a great value Bluetooth device for anyone new to handsfree devices, according to the company. The headset comes in a black or white finish.
The HBH-PV710 Bluetooth headset has talk and standby times of up to 12 and 300 hours, respectively, and comes in a silver body with glittering brown or red covers, says Sony Ericsson.
The stereo portable handsfree HPM-75 builds on the success of the HPM-70, delivering excellent sound with an attractive metallic finish, according to the company. Designed for the best possible fit, spare ear buds of different sizes are supplied in the box and can be easily swapped out to ensure a perfect fit that helps block out external noise and seals in the bass punch, noted the company. Call handling is also easy with a microphone and call answer button on the cord where a 3.5mm jack allows different ear phones to be used.
The PV702 is available from early second quarter of 2007, the PV710 is available from late first quarter while the HPM-75 will be available from the middle of the second quarter, according to Sony Ericsson.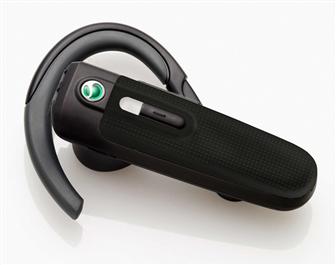 The Sony Ericsson HBH-PV702 Bluetooth headset
Photo: Company