CeBIT 2007: E-Ten previews 3G, VGA phone; to offer WM6 updates to existing owners
Ricky Morris, DigiTimes.com, Taipei
Thursday 15 March 2007
E-Ten is previewing its latest Pocket PC phone at CeBIT 2007. The Glofiish X800, supports 3G connectivity (HSDPA/WCDMA), Windows Mobile 6 and is the first from the company to include a VGA (640×480) display.
According to E-Ten, HSDPA offers always-on connectivity and speeds that are comparable to fixed-line connections such as ADSL. This translates to faster surfing and downloads and opens the door to advanced mobile services such as VoIP, streaming video, and video calling. For the latter, E-Ten includes a VGA camera to the front of the X800, which comes in addition to a 2-megapixel auto-focus camera on the back.
The X800 is the first Pocket PC phone from E-Ten to feature a VGA display, which offers up to four times the resolution of previous handsets. E-Ten pointed out that the larger screen-area can increase productivity by letting users display more of their documents, calendars, messages and spreadsheets on screen at one time, while also improving mobile multimedia by allowing pictures and video to be viewed in finer detail.
The X800 measures in at 113.5×60.5×15.8mm and includes what E-Ten calls all-in-one connectivity, or GSM, Wi-Fi, GPS and Bluetooth support. The X800 is scheduled to launch in the second quarter.
In other news, E-Ten has revealed that it is working on ROM updates for two of its previous Pocket PC phones, the Glofiish X500 and M700, which will allow owners to upgrade their handsets to Windows Mobile 6. E-Ten said that it is planning to supply updates in several languages but could not provide exact details. The updates are expected to become available starting in May and will be delivered via download from E-Ten's website. Whether the updates will be free or carry a charge is undecided as of yet.
DigiTimes.com had the exclusive opportunity to give E-Ten a quick Q&A concerning its plans and views on the industry:
Q: What are your thoughts on WM6?
A: It's more user friendly with a better user interface. Users always pursue new technology, and we are happy to keep up with the latest technology to satisfy demand.
Q: Does E-Ten have any plans for other platforms, Linux etc.? Why/why not?
A: Not at the moment. Our company has limited resources and we have chosen to focus on the WM platform. We feel that WM is currently a better platform, it is standardized and has wider support for third party applications.
Q: What are your thoughts on the Apple iPhone?
A: The iPhone's target users are different. They are younger and and are heavy users of MP3 and multimedia, while Glofiish users are business professionals.
Q: E-Ten has been using Samsung 400MHz CPUs for a while, any plans to move to higher speed CPUs?
A: Yes, we are planning to move to a higher speed Samsung CPU in a future model.
Q: HTC recently announced it has signed a bundling deal with Yahoo! does E-Ten have anything similar in the pipeline?
A: Yes, we will be approaching Yahoo! for a possible bundling deal.
Q: What are E-Ten's plans for entering the US market?
A: We are currently actively seeking partners in the US and will enter the market as soon as we finalize agreements.
Glofiish X800 specifications

Item

Description

Operating system

Windows Mobile 6 Professional

Processor

Samsung SC3 2442 400MHz

Memory

128 MB Flash ROM, 64 MB SDRAM

Display

2.8-inch, 640×480 (VGA), 65,536 colors, TFT-LCD

Dimensions (L×W×H)

113.5×60.5×15.8mm

Camera

Rear: 2-megapixel Auto-Focus CMOS camera, up to 1600×1200

Front: 0.3-megapixel Fixed-Focus CMOS

Communications

HSDPA / UMTS: 2100 / 1900 / 850MHz

Quad-band GSM: 850 / 900 / 1800 / 1900MHz

GPRS class 10 / EDGE class 10

Bluetooth v2.0 class 2 + EDR (Enhanced Data Rate)

Wi-Fi IEEE802.11b/g Certified

GPS

Embedded SiRF Star III chipset, TMC function supported (subject to region)

Expansion

MicroSD card slot
Source: Company, compiled by DigiTimes.com, March 2007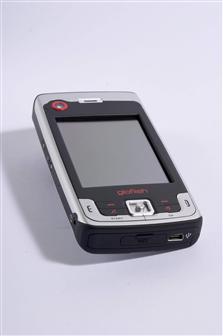 E-Ten's Glofiish X800 is the first Pocket PC phone from the company to support HSDPA and features a VGA display
Photo: Company
For complete DigiTimes coverage of CeBIT 2007 go here.