E-Ten introduces ultra-thin VGA Pocket PC Phone
Press release, May 8; Ricky Morris, DIGITIMES
Tuesday 8 May 2007
E-Ten Information Systems has introduced the X500+, its first to market high-resolution (VGA) Pocket PC Phone. The new product delivers the benefits of a larger screen-area, improved Auto-Macro camera, and the latest Windows Mobile 6 platform in an portable, ultra-thin form factor for entertainment, communications and productivity on the move, said the company.
The Glofiish X500+ features a VGA display which offers up to four times the resolution of previous E-Ten handsets, highlighted E-Ten. With more pixels on the screen, images and movies viewed on the X500+ are sharper and show more detail making the X500+ the first choice for enjoying mobile multimedia, said the company. Additionally, the X500+ includes a 2-megapixel camera allowing users to capture high-resolution photographs and record home-video.
The X500+ is based on the Windows Mobile 6 Professional platform and comes complete with the latest mobile applications for business and leisure. Updated Mobile Office applications add new functions and editing options to help users stay even more productive while working with documents, spreadsheets, and presentations on the move, while the new Windows Live for Windows Mobile suite helps them surf the Internet and communicate online.
Additionally, E-Ten's exclusive suite of in-house developed software comes preloaded on the device including the new Namecard Manager. Namecard Manager is designed to simplify the process of updating contacts on the X500+. Using the built-in Auto-Macro camera, which helps capture images at close distances, Namecard Manager lets users photograph a business card, and then uses OCR technology to identify and extract contact information, adding it to the device's contact's list in just a few steps.
As with the original Glofiish X500, the X500+ measures 113.5×60.5×15.5mm and is available in silver and black.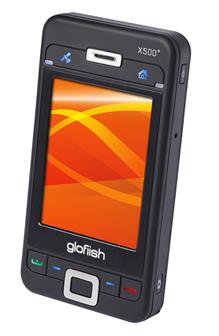 E-Ten Glofiish X500+
Photo: Company