Biostar T-Series TA690G AM2 claims ultimate onboard graphics
Press release, March 1; Ricky Morris, DIGITIMES
Thursday 1 March 2007
Biostar Microtech International has launched its T-Series TA690G AM2 motherboard based on the latest AMD 690G chipset with integrated ATI Radeon X1250 graphics.
The most distinguishing feature of the TA690G AM2 is the onboard graphics with maximum shared memory up to 512MB, says the company, adding that the TA690G AM2 delivers an exceptional experience on an integrated platform. The T-Series TA690G AM2 is the first model with integrated HDMI, DVI and TV-Out ports, to meet the expectations of different customer groups, according to Biostar.
The TA690G AM2 delivers a Windows Vista Premium experience handling the Aero user interface and the most demanding workloads with ease, says the company.
Another distinctive feature of the Biostar TA690G AM2 is the onboard HDMI port. HDMI has emerged as the connection standard for HDTV and the consumer electronics market, according to Biostar. HDMI is the first and only digital interface to combine uncompressed high-definition video, multi-channel audio and intelligent format and command data in a single digital interface, the company notes. For the end-users, use of a single cable for audio and video dramatically simplifies home theater system installation and eliminates the cable quagmire typically associated with home theater system components, says Biostar. HDMI offers advantages over analog A/V connections, including the ability to transmit uncompressed digital video and audio content, adds the company.
TA690G AM2 specifications

Item

Details

CPU

Supports AMD Athlon 64 X2/64/FX/Sempron processors

Chipset

AMD 690G + SB600

Socket

AM2

PCI Express x16

1

PCI Express x1

1

PCI

2

LAN

Gigabit Ethernet

SATAII

4

RAID

0/1/10

USB 2.0

10

Integrated Video

ATI Radeon X1250 Graphics
Maximum memory share 512 MB

Integrated Audio

8+2 channel HD audio

DVI

1

TV-OUT

1

HDMI

1
Source: Company, compiled by DigiTimes.com, March 2007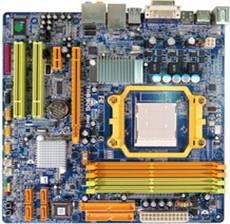 Biostar T-Series TA690G AM2
Photo: Company