CES 2007: Samsung introduces SSD-based UMPC
Press release, January 8; Esther Lam, DIGITIMES
Samsung Electronics America today announced its newest ultra-mobile PC (UMPC), the Q1P SSD, which is equipped with a NAND flash-based solid state drive (SSD). The company will display the Q1P SSD UMPC, along with its predecessors, the Q1 and the Q1P, at the ongoing 2007 International Consumer Electronics Show (CES) in Las Vegas (January 8-11).
Use of the SSD memory-based hard drive allows the Q1 UMPC to be used in applications where instant access to data is critical and where adverse environmental conditions make use of a rotational hard disk drive-based system impractical, said company senior product marketing manager, mobile computing products Bret Berg.
Fueled by a 32GB of SSD, as opposed to the traditional 1.8" hard drive found in the earlier Q1 models, Samsung highlighted that boot time is 25-50% faster than systems that employ a traditional hard drive. Overall system performance is significantly enhanced, as the SSD is capable of reading 300 times faster (53 MB/s) and writes 150% faster (28 MB/s) than models with typical hard drives.
Furthermore, seek time (the amount of time required to find information in the system memory) is also reduced on the SSD-enabled model. With its departure from the traditional hard drive, the Q1P SSD UMPC is equipped to withstand twice the impact of the hard-drive-enabled model, the company said. The Q1P SSD model's battery life is also improved as it requires less power to run the flash-based SSD hard drive versus a conventional, rotational media-based hard drive.
The Q1P SSD UMPC is currently available with an MSRP (manufacturer's suggested retail price ) of US$1,999 in the US market. The Q1P is available at an MSRP of US$1,299 and the Q1 will remain in the product line with a new, lower MSRP of US$999.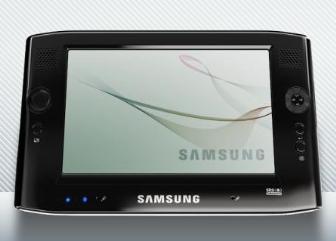 The latest version of Samsung's Q1P, the Q1P SSD, is now equip with a 32GB SSD. Shown here is the Q1.
Photo: Company
Samsung's Q1P SSD specification overview

Item

Detail

Processor

Intel Pentium M ULV 1.0GHz

OS

Windows XP table

Core chipset

Intel i915GMS

Graphics

GMA 900, DVMT 128M

Memory

1GB DDR2-533

Display

7-inch WVGA touch screen (280 nits)

Audio

Two stereo speakers,
H/P out,
array microphone and SRS sound

Storage

32GB SSD

Communication

802.11b/g,
10/100 Base-TX Ethernet
Bluetooth v2.0

Multimedia

AVS Now
(Multimedia Instant On)

I/O

Two USB 2.0,
one Type II CF card,
H/P jack,
VGA, DC-In

Battery

Li-Ion Standard 3 cell (up to 3 hrs.)

Dimension/weight

9.0×5.5×1.0 inches (1.7lbs)
Source: Company, compiled by DigiTimes.com, January 2007