Ralink and Rotani introduce Wi-Fi AP reference design featuring MIMO XR technology
Irene Chen, Taipei; Jessie Shen, DIGITIMES
Ralink Technology, a Taiwan-based developer of wireless LAN chipset solutions, on June 14 announced that Rotani, which specializes in the development and design of wireless networking solutions, has released an OEM Wi-Fi access point (AP) reference design that makes any 802.11 WLAN interference-resistant using Ralink's 802.11g solution with MIMO (Multiple Input, Multiple Output) XR (eXtended Range) technology.
Rotani's turn-key Wi-Fi AP reference design enables OEMs, ODMs, designers and manufacturers to tailor wireless networking solutions for high-throughput and latency-sensitive applications such as IPTV (Internet Protocol Television), video or music on demand, online gaming, VoIP (voice over IP), PVR (personal video recorder), STBs (set-top boxes), digital media center for the digital home, SOHO (small office and home office), enterprise, hotspots, mesh networks and other emerging WLAN markets. The complete reference design solution includes hardware, software reference design, support and licenses.
MIMO XR features Range-OVERDRIVE, Packet-OVERDRIVE and MIMO-MRC technology; availability in PCI, mini-PCI, and CardBus interfaces; and support for standards-based features and certification requirements including security, quality of service and international regulatory.
"In combination with the Intel IXP425 processor and Ralink's RT61 chipset, we achieved usable throughput rates of 35 megabits per second (Mbps) in AP to client mode and 27Mbps over a distance of 30 feet while surrounded by more than 15 access points. That is the best .11g performance we have seen so far," said Nicholas Funke, the executive vice president of Rotani. "We consider the Ralink radio among the industry's best, providing OEMs and ODMs with highly flexible wireless capabilities ideal for our market."
The current 802.11n standardization process is evolving, and consumers might be stranded until the final standard is approved, according to Frank Hanzlik, managing director of the Wi-Fi Alliance. "The Wi-Fi Alliance plans to bring out its certification program coincident with the ratification of the standard and not before," stated Hanzlik. The ratification of the 802.11n standard is estimated for the third quarter of 2007.
In the meantime, Ralink's MIMO XR is an alternative WLAN solution for customers looking to build WLAN solutions with performance comparable to or better than that of pre-802.11n/MIMO products, which deliver sustained multimedia content streaming at an extended range, without worrying about interoperability with multimedia content streaming at an extended range, without worrying about interoperability with 802.11n products.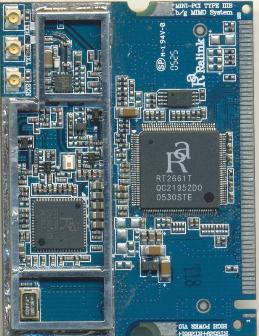 Ralink's MIMO XR chipset
Photo: Company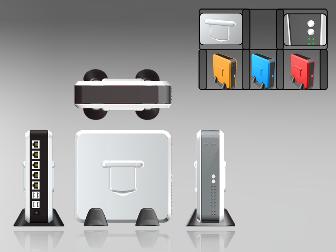 Rotani's AirReferee combines standard off-the-shelf 802.11x radios with Rotani's antenna architecture and methods of operation in a multi-radio configuration.
Photo: Company