Taiwan market: Mitsubishi to launch BrilliantColor DLP projector
Emily Chuang, DigiTimes.com, Taipei
Mitsubishi Electric Taiwan stated it plans to launch its first BrilliantColor projector (HC3000) in the Taiwan market later this month.
The DLP projector adopts Texas Instruments (TI)'s BrilliantColor technology, a processing enhancement that increases the color depth in DLP projectors by including up to six-color processing. The technology also enables an increase in the brightness of mid-tone images of more than 50%, according to TI.
The new HC3000 model features a 1,024×768 screen resolution, 4000:1 contrast and a brightness of 1,000 lumens, Mitsubishi stated.
The HC3000 is already being marketed in Japan, Europe and the North America. However, the company has not yet decided on the retail price for the Taiwan market, Mitsubishi Taiwan stated.
In related news, the company is currently developing a lightweight pocket projector (PK10) featuring a bulb with a 10,000-hour lifespan. The product will hit the market in the first quarter of 2006, Mitsubishi Taiwan projected.
Specification for Mitsubishi latest DLP projector

Model number

HC3000

Display method

DLP

Resolution

1280×768

Brightness

1000

Contrast ratio

4000:1

Weight

2.9kg
Sources: company, compiled by DigiTimes, November 2005.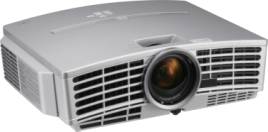 Mitsubishi HC3000 DLP projector
Photo: company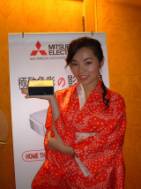 Mitsubishi pocket projector (PK10)
Photo: company