Computex 2008: Aiptek reveals mini projector and camera photo frame
Press release, June 5; Eric Mah, DIGITIMES
Digital camcorder and camera vendor Aiptek recently launched a pocket-size media player and a digital photo frame with a built-in camera at Computex 2008.
Aiptek's PocketCinema V10, is a pocket-size media player projector equipped with 3M's revolutionary miniature projection technology, which can project a 50-inch image. The display content can come from a cell phone, iPod, Wii or other video capable device via the 3-in-1 AV jack. The device can also playback videos and photos from the 1GB internal memory or the SD/MMC/MS Pro card. The V10 supports JPEG, ASF, AVI and MPEG-4 formats and features a stereo speaker and built-in battery.
The other product Aiptek is showcasing at Computex is its Mona Lisa picture frame, which features a built-in 5-megapixel camera. Through the Mona Lisa, old photos can be captured and displayed easily. The picture frame has 1GB of internal memory and a built-in rechargeable Li-ion battery.
The PocketCinema V10 and the Mona Lisa can be viewed at Aiptek's booth in Hall 1, C1100.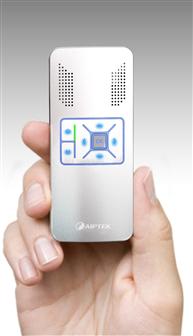 Aiptek PocketCinema V10 pocket-size media player projector
Photo: Company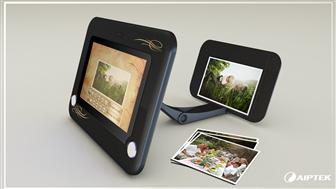 Aiptek Mona Lisa picture frame with built-in camera
Photo: Company