780 news items tagged LED lighting
The China government will prohibit imports and sale of 15W to below 60W incandescent light bulb from October 1, 2016, leading to a complete end to use of such lighting product, according...

Philips has launched Hue 2.0 series smart LED lighting systems in the Taiwan market, with an entry-level system consisting of three 800-lumen light bulbs, an E27 lamp holder and Hue...

China-based LED packaging service provider MLS has signed a 5-year strategic partnership with Taiwan-based lighting solution provider Yah Juang Enterprise for promoting MLS' own brand...

LED packaging service provider Unity Opto Technology, in order to avoid price-cut competition with China-based makers, has adjusted LED lighting product mix by hiking the LED lighting...

The US government will implement DLC (DesignLights Consortium) technical requirements 4.0 (v4.0) for LED lighting products on January 1, 2017 and this is expected to be conducive...

Global LED lighting market value in 2016 will reach an estimated US$34.64 billion, accounting for 31.3% of total lighting market value, rising 4.1pp on year, according to Digitimes...

StrongLED Lighting System (Cayman), a Cayman Islands-registered LED lighting solution provider established by Taiwan-based experts with production in China, will be listed in Taiwan's...

China-based LED lighting makers will generate a total production value of CNY210.5 billion (US$33.1 billion) in 2015, growing 18.5% on year, according to industry sources in China.

The scale of the LED lighting market will reach US$25.7 billion in 2015 and expand to US$30.5 billion in 2016. The penetration rate of LED lighting is also projected to climb from...

Demand for LED lighting in six main member countries of ASEAN (Association of Southeast Asian Nations) in 2015 is estimated at US$1.5 billion, accounting for 31.3% of total market...

China-based makers exported LED lighting products worth US$355 million in total to the India market during January-August 2015, hiking 76.61% on year, and the export value included...

LED packaging service provider Everlight Electronics expects revenues from LED lighting devices in 2015 to increase by over 10% on year, according to company chairman Robert Yeh.

Taiwan-based connector maker Ant Precision Industry has entered into the supply chain of Land Rover China and will supply car-use LED lighting cables. The company already started...

In the wake of Cree's and Osram's recent recall of defective LED light tubes, many international lighting vendors have shifted their orders to Taiwan-based makers from China's out...

A new report published by Transparency Market Research has found that the global industrial and commercial LED lighting market is expected to grow from US$12.92 billion in 2012 and...

LED prices have declined far enough that this type of lighting is now the economical choice for almost every setting and use, and heavy attention is being paid to the ongoing energy...

Global LED lighting production value in 2014 is estimated at US$28.8 billion, accounting for 26.3% of total production value for all types of lighting products, according to Taiwan-based...

LED lighting is forecast to reach 32% of total lamp revenues in office lighting during 2015, according to IHS. Total worldwide revenues for office lamps are projected at US$3.5 billion,...

An international LED forum held in Taiwan in mid-June showed that makers have extended development and production from general lighting to IR (infrared), UV (ultraviolet) chips, and...

Vertically-integrated LED firm Lextar Electronics is showcasing LED lighting products including lamps, light panels, light engines and ultraviolet (UV) applications at the 2015 LED...

In the face of natural resources being gradually depleted by humans, and the average temperature of the Earth gradually increasing, governments around the world are actively engaging...

Global demand for LED lighting will peak in 2018, with LED applications to acount for 70% of all lighting products availabe in the market, according to Lawrence Lin, president for...

The scale of the global market for all LED lighting products will reach US$25.65 billion in 2015. And within this market, light tube and troffer/panel lights will make up US$3.44...

Packaged LED lighting revenues reached US$6.6 billion in 2014, with roughly 70% revenue generated from mid- to low-power LEDs, according to IHS.

EMS provider Lite-On Technology has become a supplier of automotive LED lighting, including headlights, tail lights, turn signals and in-car lamps, for US- and Europe-based automobile...
Related photos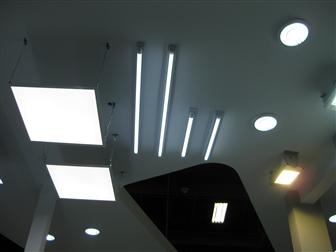 Everlight LED ceiling lights
Photo: Jackie Chang, DIGITIMES, Friday 6 September 2013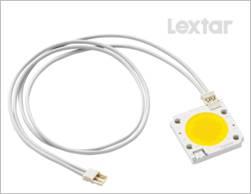 Lextar to debut latest plug-in COB
Photo: Company, Tuesday 4 June 2013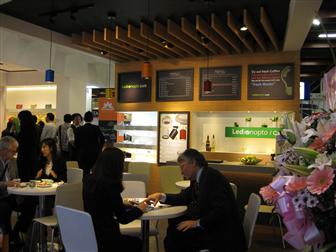 2013 Taiwan International Lighting Show: Edison Opto's cafe booth
Photo: Jackie Chang, DIGITIMES, Monday 8 April 2013
Related news around the web