Memoright Launches Full Range of SATA III Industrial Embedded Storage Devices
Press release [Thursday 6 June 2013]
Memoright, a leading integrator of solid state drive (SSD) hardware and software, is joining Computex Taipei 2013 during June 4-8 at the Nangang Exhibition Hall first floor # K0409a. The company will present a full range of SATA III industrial storage products, including 2.5" SSD, 1.8" SSD, mSATA, SATA DOM and CFast products in response to market demand for all kinds of SSD products.
Memoright's highly stabile and reliable SSD products are well known in markets for storage in military and high-end industrial control systems, helping to make Memoright the world's leading military leader in SSDs. The full range of new SATA III industrial embedded products use the latest 19nm process NAND Flash, including STM Plus (2.5" SSD), BT-25 J600 (2.5" SSD), STM-18 Plus (1.8" SSD), MS 701 (mSATA SSD), BT-DOM J600 (SATA DOM) and MCFA J600 (CFast) flash memory storage devices. This provides the industrial embedded applications market numerous capacity options together with reliable read/write performance.
Memoright's military-specification products offer stable read/write performance and are famous in the industry for significantly enhanced product life. They are widely used in military and industrial servers in several major European and American military units, as well as in aviation, maritime and overland rail transport systems. In Europe and the US, major professional digital film image-processing devices also use Memoright's military-specification SSD products created with proprietary R&D. All of Memoright's military specification SSD products are manufactured to meet strict reliability tests under conditions of wide temperature, abnormal power outages and environmental pressure to ensure products achieve improved performance and stability.
Memoright provides a full range of solid-state drive products and services. For further information, we welcome you to the Nangang Exhibition Hall first floor # K0409a booth, or visit Memoright's official website http://www.memoright.com/
Marketing and PR contact:
Charles Chou
Tel: +886-2-22183789ext5134
Email: charleschou@memoright.com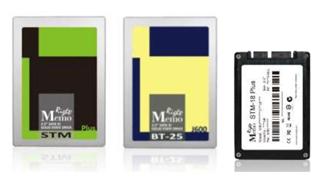 Memoright launches a full range of SATA III industrial storage products