Microsoft's observations and research directions of the limit: A new opportunity created by continuous computing
Press release [Monday 21 February 2011]
Doug Burger, director of Client and Cloud Applications, Microsoft, is primarily responsible for "redefining how people use computing devices and their experience in such devices in order to develop the hardware and software systems as well as chip functions required." During his speech at a smart cloud platform and application development symposium recently hosted by Microsoft, he noted that various cloud computing applications and tablet PCs have brought in a new era of continuous computing that will incur unsteady development of hardware and both hardware and software companies will be impacted considerably by such a rapid change. "For the IT industry, this will be a great crisis and challenge, but it is an opportunity, too," said Burger.
As tablet PCs, touch control screens, and various sensor devices are becoming increasingly prevalent, NUI input methods for body movement, gestures, and voice will mushroom to make us even more closely connected with computing devices everywhere to enjoy richer and more personalized cloud services. "After multi-core PCs are available in the marketplace, NUI and the first NUI killer application are expected to have a boom in 2012; this will mark the advent of a continuous computing era," said Burger.
How should computer systems and computing architectures evolve to cope with the change? According to Burger, a computing environment that is capable of continuous computing should enable smooth system switching and accessing computing resources anytime. It also should be content-oriented and provide personalized service as well as a high level of privacy and security. This means that both Cloud and Client should have powerful computing capability. This is a great challenge and each and every area in a computing environment needs careful integration and collaborative design. "This can only be achieved by close cooperation among hardware and software companies for both Cloud and Client," said Burger.
Microsoft Kinect, for example, is a typical continuous computing device. It uses a 3D depth sensor that integrates various movement sensing and tracking technologies to follow gamer movement to do without a traditional game console. It is intuitively controlled by body movement, gestures, and voice for the enjoyment of a realistic game experience. "The close cooperation between Microsoft and our hardware and software partners for ongoing R&D is key to the success of the Kinect project," said Burger.
Full integration of Client resources is also very important for continuous computing. Pocket Cloudlets that Microsoft Research recently announced at ASPLOS is a representative example. "Nowadays the storage capacity of a client device often exceeds 1TB. If this can be effectively used as an endpoint in the cloud to have frequently used site maps cached to the flash storage area, it will help increase the overall computing speed considerably," said Burger. Because a great deal of mobile information can be provided by the cache area, the demand for immediate uplink connection can be decreased and 70% of clicks can be completed in four milliseconds. "The speed is 1,000 times of the past," said Burger.
Various cloud applications for consumers, experiment, simulation, storage, text processing, etc have made the global information traffic have a petabyte increase, making it more difficult for immediate exploration, search, and analysis of information. As a result, cloud datacenter architectures need to evolve along from container data centers that stress configuration, high density, scalability, and stability to the latest ITPAC, because ITPAC offers the lowest cost of total ownership, is readily available online, and becomes even more efficient when expanded.
Rapidly strengthening cloud datacenter capability is making many cloud applications that used to be expensive more affordable. According to a George Church article published in IEEE Spectrum in February 2010, in 2004 developing a human genome map required US$3 billion, which decreased to US$45,000 or 1/60,000, in less than six years. It is expected to drop to US$100 eventually. With the increasing capacity of storage devices, nowadays only 1.5 3G flash disks can store a complete human genome map, evidencing how powerful the influence of IT technology evolution to applications.
"This means that cloud application services will be more frequently used," said Burger. However, because such services tend to record a great deal of personal private information, including online attitudes and behaviors, how to maintain information security in the cloud is a critical issue. "Ill-intended access to such information can incur identity falsification," he added. Therefore, a balance between rich cloud services and privacy protection is necessary.
In sum, many application services of continuous computing need to combine Client and Cloud in order to provide the best user experience. In general, Cloud is responsible for the security and trust of private and public cloud information services, while Client is responsible for strengthening interactivity, sensor input, and expected operations. "Context and content awareness as well as adaptive performance require the collaboration between Client and Cloud," said Burger. Therefore, to realize cloud computing, both Client and datacenters that support cloud computing need ongoing expansion and upgrade.
But this does not mean continuous computing does not face any challenge. "The greatest challenge comes from semiconductors because semiconductor scalability faces a bottleneck," said Burger. Research findings show stagnant semiconductor performance despite more transistors added by manufacturers. A balance between performance, R&D costs, and volume is required in order to resolve the bottleneck and, to achieve this, Burger recommended heterogeneity in conjunction with EDGE in design collaborated by Client and Cloud companies.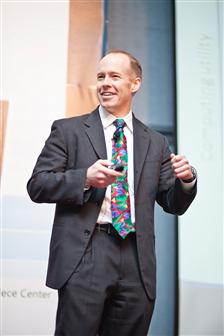 Doug Burger, director, Client & Cloud APPS, eXtreme Computing Group, Microsoft
Photo: Digitimes