Fashion Intelligence strengthens applications for rural healthcare and epidemic prevention with IoT positioning services
Sandy Du, DIGITIMES, Taipei
In operation for a decade, Fashion Intelligence has been developing smart services on the basis of IoT positioning technologies in recent years. For example, Fashion Intelligence designed and integrated the software elements of the Taipei Navi app, which provides indoor navigation services at the Taipei Main Station, the biggest application field in Taiwan. It is among the highly praised public services offered by the Taipei City Government.
In addition to being a public transportation hub connecting the Taiwan Railways, Taiwan High Speed Rail, Taipei MRT, Taoyuan International Airport MRT and bus networks, the Taipei Main Station is also home to a huge underground market, making it a maze to travelers. Fashion Intelligence makes use of beacon devices combining Wi-Fi and Bluetooth Low Energy (BLE) technologies working in connection with the traveler's smartphone to position the traveler and thereby enable functionalities including indoor navigation, traffic information, restaurant and store location, smart parking information and push notification. With Fashion Intelligence's app, travelers can easily find their way to the exit closest to where they are going or navigate to their rendezvous point without getting lost.
According to Fashion Intelligence general manager Kent Chang, its positioning system delivers a +/- 2-meter accuracy, the best that BLE can achieve. However, in the lobby area with the black-and-white checkered floor, it is not easy to deploy sensors so a +/- 5-meter accuracy is acceptable to most users.
Fashion Intelligence has been experimenting with using IoT positioning technologies to solve a range of different problems. Elderly care in remote communities is one area that Fashion Intelligence is trying to put its solution to practical use. Leveraging Wi-Fi communication and beacons, coupled with IoT sensors to detect smart IC cards, can enable precise positioning. Moreover, a diversity of outdoor positioning devices in the form of amulets or incense bags from temples, inductive cards or key chains that are compact, lightweight, wearable and convenient can be carried by elders so that caregivers can keep track of their whereabouts anytime anywhere.
Fashion Intelligence has piloted the solution in Xishi Village, Zhutian Township, Pingtung County. Elders are more willing to wear the positioning devices offered in the form of amulets and many users have expressed satisfaction. Chang noted that the app provides two functions - positioning and self-reported positioning. It is a much more efficient and economical alternative to the old-fashioned approach of using video cameras to conduct searches and is therefore growingly adopted throughout Taiwan. Available at a monthly rental fee of NT$150, Fashion Intelligence is building up its user base and expects to connect the device with the smartphones of the elder's families or children to enable greater smart IoT business opportunities.
Launching smart applications in Thailand, Singapore and Hong Kong
With the assistance from the Smart City Development Projects Office, Industrial Development Bureau (IDB), Ministry of Economic Affairs (MOEA), Fashion Intelligence has successfully expanded into Southeast Asian markets by building regional distributor networks. Fashion Intelligence looks to present localized smart applications through distributors that are capable of system integration. For example, its positioning solution available at Mercedes-Benz service centers in Thailand allow car owners to stay on top of how far along the repair or maintenance process their vehicles are as well as where they are in the service center.
The solution is also being used at an elderly daycare center in Singapore. Indoor positioning helps keep track of who has been in contact with the elders for the purpose of epidemic control. Such location specific applications have tremendous development potential in Southeast Asia. Chang thinks IoT services will enable two main benefits that are welcome by the general public - safety and cost saving. For instance, asset management by warehousing companies or access control of airport restricted areas are applications that catch market attention.
As Fashion Intelligence's solution is largely adopted by large-scale organizations such as government institutions and hospitals, Chang is grateful to IDB for bridging Fashion Intelligence and local distributors together, enabling a better understanding of regional needs. Thanks to IDB's match-making efforts, Fashion Intelligence has engaged in partnership deals that have allowed it to successfully penetrate into local markets. This is something Fashion Intelligence could hardly achieve by attending regional trade exhibitions. In just two years, Fashion Intelligence is already seeing business value generated as a result of these partnership deals.
Fashion Intelligence is engaging in partnership deals at large scales with major telecom operators and hospitals in Hong Kong and sees promising outlook. Going forward, Fashion Intelligence expects to move toward the Software as a Service (SaaS) model, through which more vendors across different industries can join efforts.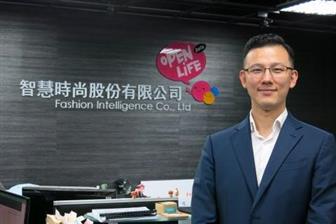 Fashion Intelligence GM Kent Chang
Photo: Sandy Du, Digitimes, October 2020