Gorilla and Asteria announce strategic edge AI alliance
Press release
Asteria Corp and Gorilla Technology Inc announced a business alliance regarding their video analytics technology and products using AI. Asteria and Gorilla plan to grow their presence in Japan and build on edge AI solutions optimized by the Intel OpenVINO toolkit which have seen success in Taiwan's airports and police bureau. This alliance will enable rapid expansion in societal and industry applications by combining both companies' market proven edge computing technologies.
Asteria's Gravio was launched in October 2018 as an AI-equipped IoT edge-integrated SaaS with the goal of simple AI and IoT implementation. Gravio collects various sensor data, processes it, executes various tasks, and also recognizes video with its built-in machine learning engine. During its deployment, individual needs for machine learning, camera and sensor type placement, internal processing of collected data for video recognition, varying environments, and other specifics needed to be addressed. With regard to video recognition specifically, Asteria required a wide range of knowledge and technologies. In order to address this and to increase Asteria's data collaboration, processing, and sensor data utilization solutions, they determined it necessary to enhance AI functions that utilize high-performance and versatile video analytics in order to meet customer needs.
Gorilla's products, such as IVAR (Intelligent Video Analytics Recorder), have been deployed and are currently being used effectively in Taiwan's law enforcement agencies, Taoyuan Airport, and Chunghwa Post. The performance of Gorilla's products over the last 18 years is a testament to their promise of cost performance and ease of use. Gorilla continues to be well-known for its adoption of advanced technologies, such as IVAR being the first product to receive certification of the Intel optimization OpenVINO toolkit. IVAR provides edge AI video analytics and perfectly matches the merits of Gravio's edgeware. By integrating these systems, the two companies plan on increasing overall capability, further reducing network load and latency, and ensuring deeper security and privacy.
After announcing the achievement of becoming the first Intel certified Market Ready Solution (MRS) partner to deploy OpenVINO optimization in their computer vision solution, Gorilla secured a multi-million D-series funding from SBI Investment in order to propagate AI solutions in Japan. Gorilla has also been very open about actively seeking out partnerships and has attended more than 15 tradeshows and conferences since January in order to create and grow an AI ecosystem.
"Asteria's strong market and channel position cements Gorilla's footing in Japan and the alliance opens the door for IVAR to add its AI-based video analytics value across many verticals with Gravio." Gorilla CEO, Dr. Spincer Koh continued, "With the demand for both IoT and AI solutions, we believe this collaboration will bring more exciting applications to the clients and present many new business opportunities."
Specifically, Asteria plans on joining their middleware "ASTERIA Warp," which has already been introduced to more than 7,500 customers, with Gravio and then integrating Gorilla's edge AI IVAR technology. In this respect, Asteria will be able to provide clients with an optimal form of software with AI and Gorilla will be able to expand Asteria products to their target market. As a result, the two companies intend to jointly drive the worldwide spread of edge computing that is necessary for AI and IoT to thrive.
About Edgeware and Gravio (https://www.gravio.com/jp )
Gravio is an edge computing type IoT integrated software with AI functions that is developed for IoT based on the technology accumulated in "ASTERIA Warp," the number one type of data collaboration tool in Japan with an emphasis on its usability by non-programming and intuitive screen design. Furthermore, the built-in recognition technology using AI and multi-platform support dramatically expands the use possibilities being an intelligent edge software. Asteria also offers a free loan program for various certified sensors, eliminating the complexity when installing. Gravio's collection of various data, processing, and cooperation are also intelligent. Asteria makes it easier and faster to use IoT.
About Gorilla IVAR and Edge AI Computing Technology (https://www.gorilla-technology.com/IVAR)
IVAR is a comprehensive VMS and IVA control and management software created to deliver actionable results and offers API integration as well as the flexibility to build on Intel based systems running Windows or Linux. View, control, schedule, and manage video streams, recording, storage, and playback with IVAR which also supports RTSP and ONVIF. That functionality is meshed with IVAR's IVA (Intelligent Video Analytics) for easy, fast, and accurate detection, recognition, and notification of things regarding people, behavior, and vehicles within video. While IVAR is a complete solution, IVAR's API integration supports transitioning from or building on existing VMS and AI applications. IVAR's uses are wide reaching and public safety, enterprise security, and retail are a few where IVAR excels.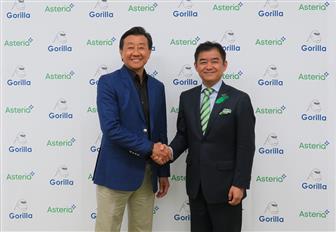 Joint announcement made at the press conference in Tokyo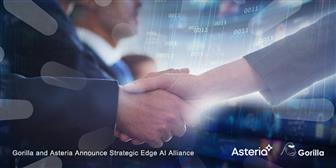 Gorilla and Asteria announce strategic edge AI alliance
DIGITIMES' editorial team was not involved in the creation or production of this content. Companies looking to contribute commercial news or press releases are welcome to contact us.