PowerArena uses AI image ID tech to diagnose production inefficiency
Chloe Liao, Taipei; Willis Ke, DIGITIMES
Hong Kong startup PowerArena is moving to apply computer vision and AI deep learning technologies to conduct real-time monitoring of production lines to help manufacturers discover factors leading to poor production efficiency, in order for them to seek improvement solutions, according to company co-founder Ken Law.
PowerArea is one of 19 growth startups, also the only from Asia, invited to attend 10-day trade talks with 47 Taiwan businesses, hosted recently by Garage+, an incubation project initiated by Taipei-based Epoch Foundation.
Law and another co-founder Ryan Chow have discussed with Taiwan firms including Wistron, Advantech and AU Optoelectronics over cooperation possibilities. Law revealed that his company is planning to set up a branch office in Taiwan seeking to explore market potentials for AI-based image recognition solutions needed to help manufacturers with production upgrades.
Despite the arival of Industry 4.0, there are still many labor-intensive and low-automation manufacturing plants in Taiwan and China, and data associated with production variables at such plants cannot be collected by sensors installed on machinery equipment, Law said.
Law said PowerArena's AI image recognition solution can be combined with surveillance cameras to monitor the efficiency of each production line worker by figuring out the time he or she needs to complete each procedure, so as to help manufacturers locate the most time-consuming procedure and take effective improvement measures.
Law said that while Industry 4.0 highlights smart production, there are now as many as 300 million workers operating at plants. PowerArena's AI image recognition technology can be best applied to labor-intensive and low-automation production lines, including those at electronics assembly, food production and garment manufacturing plants, Law indicated, adding that the technology can replace mechanical networking to inject new intelligence into low-automation industries.
Law continued that the AI image recognition technology can also help manufacturers achieve more efficient shift of production lines to meet the growing "small-volume, large-variety" production mode.
PowerArea will move to further optimize its AI image recognition functions to boost yield rates at production lines, according to Law.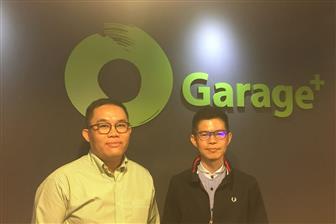 PowerArena co-founders Ryan Chow (left) and Ken Law (right)
Photo: Chloe Liao, Digitimes, December 2018