Atotech talks about core products and opportunities for 5G, AI and PCBs at TPCA Show 2018
Press release
PCB chemical and equipment provider Atotech has participated at TPCA Show 2018 to showcase their new products and talked about the company's plans and strategies.
Q: What are the core products and competitive advantages of Atotech today?
A: Atotech is a leading provider of chemicals and equipment for PCB, package substrate, functional electronics and semiconductor technologies, with a long lasting history in electroplating and surface finishing. As a supplier, we have the reputation for providing solutions that make the difference. We see ourselves as a strategic partner for our customers and help them fulfill the requirements of their customers, the OEMs. Besides leading technology change, our strongest competitive advantage is that we are the only company within our industry that can provide both wet chemicals and equipment as a total production solution.
Our business here in Taiwan supports all markets and applications and we are a preferred supplier for every step of the production process for printed circuit boards, package substrates, functional electronics and semiconductors. We offer solutions that include everything from multilayer bonding, desmear and PTH to plating, surface treatment and final finishing technology. For semiconductor our portfolio includes plating for dual damascene, re-distribution layers (RDL) and pillar plating, as well as pad- and under-bump metallization, through-silicon via filling and double side-plating of wafers. This is what we are showcasing here at TPCA 2018, our broad portfolio and latest innovations for each segment.
Q: What are the Atotech product highlights of this year's TPCA show?
A: Atotech has several new products that are now available to a wider audience. For example, we developed new products (based on mSAP technology) to comply with latest fine line and space requirements especially in mobile applications. Here I like to highlight our BondFilm LDD MSAP, a laser drilling pretreatment for advanced mSAP application, our Printoganth U Plus/T1/TV, a new series of horizontal and vertical electroless copper processes, and our Inpulse and InPro processes for horizontal and vertical BMV and through-hole filling. We also developed new solutions for photoresist stripping, differential etching, bonding enhancement as well as final finishing whether this is ENEPIG or EPAG. All of this is supported by our systems technology, our Uniplate and Horizon lines, of which we have sold and installed more than 1,900 systems until today.
Another innovation is our MultiPlate, a next generation ECD plating tool that meets the challenges of wafer- and panel-level packaging. For panel-level packaging we are offering RDL plating of fine lines, copper pads, and BMVs, as well as high speed copper pillar plating. For wafer-level packaging its double side copper plating, RDL plating, high purity and high speed copper plating as well as through via filling. We receive a lot of requests for all these new products from customers and OEMs alike. This makes us proud and moves us forward.
Q: In response to the current wave of 5G and AI, does Atotech have any related development ongoing?
A: 5G is on its way, and it's all about high-frequency applications. Atotech is already very active in working with customers, developing new processes to meet the very stringent requirements for high-frequency applications. But to answer your question more precisely, one must understand what the challenges are and impacts of AI and 5G implementation vs the current technology available. Let me give you a few examples of the main challenges on 5G and AI products:
- First you need enhanced adhesion promotion to reduce your signal loss to fulfil signal integrity requirements
- Then you need an optimized electroless copper for high speed signal transmission
- Followed by a higher plating uniformity impacting warpage and last but not least
- Your reliability and thermal heat dissipation need to improve by an advanced through hole/copper filling process
All these are only a few examples that will help manufacturers to build 5G and AI electronic components, so they can benefit from this growing market in the future.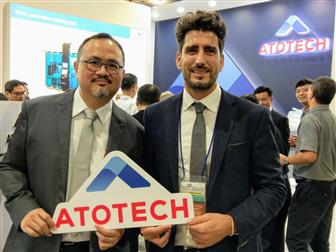 Daniel Schmidt (right), Director, Global Marketing and Technical Training; Bill Kao (left), Business Manager, Atotech
DIGITIMES' editorial team was not involved in the creation or production of this content. Companies looking to contribute commercial news or press releases are welcome to contact us.