Wonders develops diverse smart city solutions with new techs
Vincent Mao, Taipei; Willis Ke, DIGITIMES
Wonders Information, a major smart city service provider in Shanghai, China, is aggressively utilizing such newly emerging technologies as cloud computing, big data, IoT, and mobile Internet to work out comprehensive smart city solutions, according to company chairman and president Shi Yibing.
Shi told Digitimes in a recent interview that since its inception in 1995, Wonders Information has made it a management philosophy to better human lives with informatization, with its business transformation driven by innovations. Over the past 23 years, the company has amassed abundant experiences in various industries and developed prominent advantages in industry software and services, including many cloud services associated with smart city solutions.
Through its medical healthcare cloud platform, for instance, Wonders has served around 600 million people in China, having established a solid foundation for medical big data. Its healthcare cloud platform has established connections with hundreds of public hospitals and medical service institutes, and has processed more than 20PB of data.
Shi said that through healthcare IoT devices deployed at communities by his company's medical healthcare cloud platform, residents can conduct physical checkups on their own, such as checking their blood sugar and blood pressure. The ensuing data can be transmitted to the cloud platform via IoT devices, thus facilitating connections between residents and contracted physicians. So far, Wonders healthcare cloud has extended services to a total of 241 community healthcare units in all the 16 administrative districts in Shanghai.
Citizen cloud
The company's citizen cloud is a one-stop public service platform for citizen users registered with real names, built with cloud computing and mobile Internet technologies. With an open service architecture, the platform has developed a brand-new service ecosystem integrating government services and social services, able to handle real-name ID verifications, online-to-offline services, and multi-end accesses, among others.
As of the end of August 2018, the company's Shanghai citizen cloud has recorded 9.2 million registered users, providing 120 services to citizens through 34 connected administrative service units spread in all the districts of Shanghai. The Shanghai citizen cloud will release its 6.0 version in late September, allowing individual citizens and enterprises to get administration services through mobile Internet, which will be as convenient for them as making online purchases. The citizen cloud service has been well recognized by many other governments of all levels and citizens in China, according to Shi.
In terms of medical AI applications, Wonders will move to further develop smart mobile medical care, new pharmaceuticals and new medical insurance, medical big data applications, and health management.
Wonders will also step up big data applications to smart city security, smart transportation, smart transportation and smart market monitoring fields while also deepening the establishment and operation of enterprise clouds to optimize business environments, according to Shi.
Reputable accreditations
Furthermore, the company will continue to work out precision core business systems in various industries in smart cities while applying those solutions well received in the coastal areas to other provinces, such as those for medical care, administrative services, and market monitoring, among others.
The company has many highly reliable, safe and useful cloud services available for use on a rental basis. It has won the IDC cloud service license issued by the Ministry of Industry and Information Technology, the public cloud computing capability compliance certificate from the Information Technology Service Sub-association of Chinese Electronics Standardization, and passed the cloud host reliability and safety accreditations by the Open Data Center Alliance, Shi disclosed.
Shi stressed that on the basis of its grand smart city platform, Wonders will also expand cooperation with ecosystem partners of different industries to jointly develop new products and new business models and cultivate unicorns in the fields of citizen cloud, healthcare cloud, pharmaceutical cloud, financial insurance cloud, and more.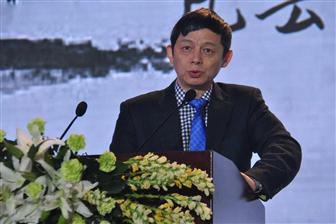 Wonders Information chairman Shi Yibing
Photo: Company