Photronics receives excellent Supplier Award from Nanya Technology
Press release
Photronics, a worldwide leader in supplying innovative imaging technology solutions for the global electronics industry, was selected by Nanya Technology Corporation as the excellent supplier for its South Asian Branch in 2017.
"It is an honor to accept this recognition on behalf of everyone at Photronics, including our PDMC joint venture, that has exemplified our commitment to provide great technology solutions and service every day," stated Peter Kirlin, chief executive officer. "Our partnership with Nanya has continued to expand and is now stronger than ever. By working together with them, we are able to combine our regional and global technical strengths and unique memory mask capabilities, enabling Nanya to deliver leading-edge memory solutions to their customers. This is another notable example of how Photronics works across sites and geographies to deliver outstanding value to our customers."
Photronics is a leading worldwide manufacturer of photomasks. Photomasks are high precision quartz plates that contain microscopic images of electronic circuits. A key element in the manufacture of semiconductors and flat panel displays, photomasks are used to transfer circuit patterns onto semiconductor wafers and flat panel display substrates during the fabrication of integrated circuits, a variety of flat panel displays and, to a lesser extent, other types of electrical and optical components. They are produced in accordance with product designs provided by customers at strategically located manufacturing facilities in Asia, Europe, and North America. Additional information on the Company can be accessed at official website.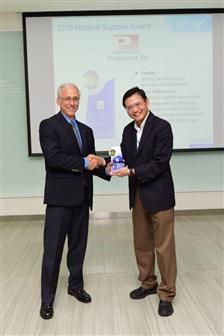 Photronics CEO, Peter Kirlin (left), Nanya President, Pei-Ing Lee (right)
DIGITIMES' editorial team was not involved in the creation or production of this content. Companies looking to contribute commercial news or press releases are welcome to contact us.