Assa Abloy drives smart door lock applications, shaping user experiences with intelligence, security and convenience
Sponsored content
Consumers in Taiwan are probably quite familiar with the logo featuring the black characters "Yale" on a yellow background but they may not know the company behind the classic Yale brand - ASSA ABLOY. In fact, ASSA ABLOY is the largest worldwide leading company of door opening and security solutions. One out of ten locks or security devices in the world is an ASSA ABLOY product.
In response to booming IoT developments, ASSA ABLOY is gearing up R&D efforts combining a wide range of high-tech innovations to deliver new-generation smart door opening solutions for homes and businesses and reshaping the traditional lock industry. During a recent interview, Aravind Karthigesu, managing director, ASSA ABLOY ASEAN, and Irene Yip, general manager, ASSA ABLOY Hong Kong, Macau and Taiwan talked about smart applications and their views on Taiwan market expansions.
Karthigesu first noted that ASSA ABLOY was formed in 1994 through the merger of ASSA in Sweden and ABLOY in Finland. Since then, the company has engaged in more than 200 merger and acquisition deals and is now an international group with 47,500 employees and annual sales of SEK76 billion (NT$265 billion). ASSA ABLOY's workforce in Asia Pacific comprises 11,800 employees and the region contributes SEK9 billion (NT$30 billion) to the company's annual revenue with the Taiwan market being an important segment.
Focusing on R&D and innovation, ASSA ABLOY enables seamless access control
In addition to Yale, ASSA ABLOY Group's comprehensive brand portfolio include Gateman, TESA, ABLOY, TRAKA, Mul-T-Lock, supplying a complete range of mechanical, electromechanical , digital and smart door opening solutions and security devices for both residential and commercial markets.
Irene Yip added that many of ASSA ABLOY's brands have been long standing, particularly with Yale celebrating its 175th anniversary this year. Yale Joined the ASSA ABLOY family in 2000 and many customers only got to know ASSA ABLOY because of Yale. With digital locks becoming the trend, ASSA ABLOY's ongoing innovative efforts have been infusing new energy into Yale by introducing new high-tech electronic door opening solutions to keep the brand on the leading edge.
Commenting on developments in Asia Pacific markets, Karthigesu pointed out the region has a population of 4.1 billion people, among which two billion have access to Internet, 3.9 billion use mobile devices and half are the millennial generation under the age of 30 who grew up surrounded by technologies.
In view of the trend, ASSA ABLOY gears its Asia Pacific strategies from digital locks toward smart locks in an attempt to capture IoT opportunities. It is working to enable higher security and more convenience through strengthened integrations of smart locks, Internet and mobile apps.
Extending from electronic locks to smart home applications, the famous Yale brand under the ASSA ABLOY Group highlights family values, especially for Asian markets. For example, when a user is worried about an elderly family member or a child but cannot go home to check on them, he or she can use a smart device to send a one-time-use electronic key, which is in the form of a password, or turn a smart device into a key using Wi-Fi or Bluetooth communication to allow a neighbor or friend to unlock the door and help check on family members during a specified period of time.
Karthigesu said ASSA ABLOY brings innovative application built on adding value to people's lives. As a result of urbanization, most people live in apartment complexes or communities with common areas and personal spaces. For growingly popular home delivery services, ASSA ABLOY's solutions can allow a delivery person to pass through community gates and lifts on a one-time basis and bring packages to a customer's door with no security concerns.
If we expand the scope to smart building and smart city applications, just think how many doors people pass through every day as they move around the city.
ASSA ABLOY is becoming the 'meastro' in the background orchestrating the products, technologies and seamless customer experience to securely and reliably access the doors to where you live, work and play. We look to build seamless access control with no need for keys. The door can recognize your face and automatically open for you while denying unauthorized access. This will bring more convenience and security to people's lives. To achieve such a goal, we will combine multiple technologies, including early-day mechanical locks, present-day password, card and fingerprint solutions and face recognition or other cutting-edge technologies in the future. ASSA ABLOY will keep abreast of the times and introduce the latest high-tech advancements to reshape the lock industry that seems to be in keeping with the tradition." Says Karthigesu.
Smart home and smart city applications spur growth opportunities
ASSA ABLOY will continue to actively promote smart lock products to the Taiwan market where high-tech products enjoy a high penetration rate. As part of its efforts to expand into smart home services, ASSA ABLOY has joined forces with Secom to include its electronic locks and apps in Secom solutions. According to Yip, every household in Europe, North America, Taiwan, Japan and Korea will be equipped with electronic lock systems within the next 10 to 15 years, representing a significant change to the way people use locks. In view of this, ASSA ABLOY will strengthen collaborations with smart home service providers and system vendors to expedite market expansion.
In addition, ASSA ABLOY is the first vendor in Taiwan to open a concept store featuring door locks with six Yale stores already up and running and a total of ten stores by year-end. These stores provide consumers easy access to ASSA ABLOY's innovations and raise market awareness on smart locks.
ASSA ABLOY has enjoyed multiplying growth each year since 2010 in the home-use market in Taiwan, including uses in renovation projects and new constructions. This is very impressive growth and also a confirmation on the trend ASSA ABLOY has envisioned, so the company is very optimistic in its outlook for the Taiwan market.
Aside from home-use, there are also tremendous opportunities in commercial buildings, government institutions and public infrastructures. The Taiwan government is aggressively rolling out smart city applications and has selected ASSA ABLOY's electronic locks for use in public housing projects and new Taipei MRT subway lines under construction. With government agencies leading the way, Taiwan citizens will increasingly embrace these high-tech innovations as well.
According to Karthigesu, seamless access control also has wide-ranging applications throughout different scenarios such as hospitals, factories and power plants. For example, a patient that is delivered to the emergency room in an ambulance passes through multiple access control points before he is sent to the operation room. Any delay, even just seconds, may be life-threatening. ASSA ABLOY has received requests from hospitals to study the use scenario and develop solutions for them.
In closing, Karthigesu emphasized ASSA ABLOY's product portfolio includes not only door locks but also smart windows and smart safes. The goal is to build a secure and convenient life for users. ASSA ABLOY is able to lead smart lock developments thanks to its devotion of immense R&D resources and its task force of more than 2,000 R&D professionals who continue to transform innovative concepts to actual implementations, thereby creating greater opportunities.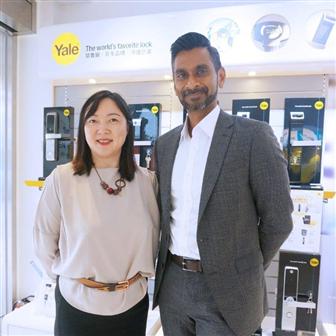 Irene Yip, general manager, ASSA ABLOY Hong Kong (left) and Aravind Karthigesu, managing director, ASSA ABLOY ASEAN (right).
DIGITIMES' editorial team was not involved in the creation or production of this content. Companies looking to contribute commercial news or press releases are welcome to contact us.