Litemax launches Intel SDM-based systems
Press release
Litemax, a display solution provider has launched a new product line based on Intel smart display module (SDM) specification. Intel SDM module specification can reduce power consumption, flexibly integrate with different LCD displays, and quickly create new display solutions, according to the company.
Following Intel's SDM specification and reference design, Litemax has launched two in-house-developed SDM boards, the ASDM-APL6 and ASDM-APL5.
The ASDM-APL6 is a small SDM board (60x100mm), equipped with Intel Apollo Lake SoC, LPDDR4-2GB and eMMC-32GB on board, one Intel Gigabit Ethernet port, two USB 3.0 ports, and WiFi 802.11ac (M.2) support. The open pluggable M.2 module is designed for low power consumption applications including digital signage, public kiosks, and point-of-sale.
The ASDM-APL5 is large SDM board (175x100 mm), equipped with Intel Apollo Lake SoC (6-12W) on board, DDR3L up to 8GB SO-DIMM, one Intel Gigabit Ethernet port, two USB 3.0 ports, one COM and two M.2 Key-E and M slot. Due to more I/O ports and powerful SoC inside, the board is meant for specific and professional applications including point-of-sale, transportation signage and hospitality, Litemax said.
Litemax said it also offers many SDM-ready display computing systems for low to high-end vertical applications. At the beginning of 2018, Litemax the released IPPS-3205-SDM1 and IPPS-4355-SDM1, two high-end SDM display computing systems.
The IPPS-3205-SDM1 is a 32-inch UHD LCD system, with Litemax Duarpixel LCD, brightness up to 800 nits. It features Litemax's own MaxRGB technology (NTSC up to 94%), and embedded Intel SDM. It is for multi digital signage solutions in retailers, restaurants and infrastructures.
The IPPS-4355-SDM1 is a UHD SDM-ready system featuring Litemax Spanpixel LCD display. The aspect ratio of the system is 16:2.2, with brightness of the LCD up to 1000 nits, and NTSC up to 95%. Litemax said the IPPS-4355-SDM1 system is meant to be a turnkey system for public transportation signage.
"In 2018, Litemax will cooperate with Intel closely and provide more products to support Intel SDM specification," said David King, general manager of Litemax.
For more products and systems, please visit Litemax's official website: www.litemax.com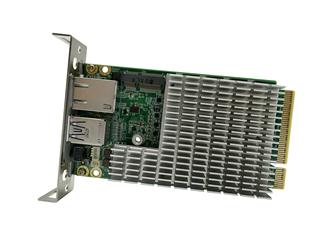 Litemax-developed Intel SDM module
DIGITIMES' editorial team was not involved in the creation or production of this content. Companies looking to contribute commercial news or press releases are welcome to contact us.