Able to withstand extreme conditions, state-of-the-art rugged computers create values
Press release
Monday 2 October 2017
Amid increasing terrorist attacks, European and American governments attach great importance to public safety, putting in resources to step up efforts. Technology has always played an essential role in the protection against threats to public safety. Intelligent criminals often make use of high-tech innovations in their plots.
With technologies rapidly advancing and criminals becoming growingly intelligent, people rely on public safety organizations including frontline military forces, law enforcement, fire and rescue services to ensure freedom and comfort in life. Electronics manufacturers in Taiwan known for providing high-tech products naturally become best partners helping these government agencies enhance public safety, fire and disaster relief systems to thereby implement ironclad protection for their citizens.
Rugged notebook computers are the most important smart mobile solution equipped in vehicles used to carry out frontline military, police and fire fighting duties. Communicating through 4G networks and Wireless Metropolitan Area Networks (WiMax), they serve as a mobile command center and are indispensable to frontline law enforcement. Rugged notebook computers lead powerful high-tech developments. The following real case that happened at a fire department on the US East Coast shows how a meticulously engineered rugged computer stood the test of extreme conditions in a high-profile use scenario.
The computer that survived a fire gave a testament to ultimate quality
On a spring afternoon, the fire chief got off his four-door pickup truck and plugged the electronics and devices of different sizes in the vehicle to the built-in battery charger as usual. An hour later, one crew member saw smoke start to come out and the vehicle was engulfed in flames within seconds. Although the vehicle was diesel fueled and therefore would not explode, thick black smoke bellowed from the engine compartment and the fire scorched and melted the dashboard and all equipment nearby, including the police radio, GPS and the Getac rugged computer mounted on a dock close to the dashboard about 10-12 inches away from the radio.
The fire was quickly put out with fire extinguishers and the situation was immediately under control. Then, the pickup truck was sent to the fire department for investigation on the cause of the fire. The interior was covered in ash and soot. All the in-vehicle electronics had no way of surviving the fire and would be scrapped for sure.
When the fire department communication officer in charge of electronics and communication equipment along with the investigation officer checked on the damage to the devices, the communication officer got the electronics technician to remove all the devices from the vehicle. Unable to see clearly whether the Getac rugged notebook's battery LED light was lit because of the heavy soot, the communication officer didn't think it would have had any chance of surviving the fire. However, much to his surprise, after he opened the Getac notebook and pressed the space bar, it was booted up from sleep mode into normal operation. After a few tests, the officer confirmed it was working fine as before without glitches.
After repeatedly running a number of tests, the communication officer and the electronics technician were so amazed that the officer wrote to Getac, the designer and maker of the rugged notebook to express appreciation and to applaud Getac for the craftsmanship presented in the engineering and manufacturing of the product. At the end of his letter, he wrote, "We were all in amazement. If this is not battle tested, I am not sure what is."
Upholding premium quality, Getac delivers IP65 industrial standard spec and all-round system protection design
The real case is not the first testament to Getac strength. Getac offers well-thought-out designs and protective measures to frontline fire crews, police officers and armed forces working under extreme conditions. Taking the V110 fully rugged convertible notebook for example, it is designed with a metal casing to protect all its components. The notebook has passed testings of US Military Standard 810G (MIL-STD 810G), verifying its capability to maintain continuous operation for at least 96 hours in a 60 degree Celsius environment. In the case of a sudden rise in ambient temperature, such as a fire, an internal protection circuit will be activated to put the system into sleep mode to minimize risks resulting from inability to dissipate heat. Accordingly, in the above-mentioned case, even though the fire burned at higher than 60 degrees, the data in the computer could still remain intact.
Furthermore, V110 comes with IP65 protection against water and dust. It enables the highest industrial grade dust-proof protection and resists water jets of high pressure. As such, V110 is able to block ingress of ash and soot as well as foam and water in a fire and thereby prevents damage to its components. The real case showed that the notebook, especially the data in the storage system, was effectively protected from fire.
Rugged computers are designed with a good understanding of customers' use scenarios
Getac has received numerous use case reports and thank-you letters from customers in recent years, including those from elite teams on the front line such as the United Nations Peacekeeping Force, police departments and fire departments. Feeling deeply honored and pleased with these achievements, Getac is working to reexamine and understand the design requirements imposed by customers' extreme use conditions while stepping up engineering efforts to improve and raise product quality. The encouragements will also power Getac to continuingly perfect its products and services to help frontline officers safely complete challenging missions.
The achievements directly translate to financial gains for Getac. Its 2016 EPS was up 68% on year, net profit after tax soared over 60% from the year before and its stock price recently set a 10-year high. For the first half of 2017, consolidated revenue totaled NT$10.226 billion, net profit after tax arrived at NT$ 820 million and EPS amounted to NT$1.45, up 25% on year.
With the second half being a traditional high season for conventional rugged computers, customer demand and order visibility can both trend up. As Getac offers more value-added services across a broad range of product lines and can therefore enjoy higher average selling prices, it can expect to experience higher revenue growth for the second half of the year, likely up 10%-15% compared to the first half, adding the contribution from steady growth in sales of automotive parts as well.
Getac launched the Veretos smart mobile video system for law enforcement last year and was awarded a contract with the State of Tennessee for use of Veretos in nearly 1,000 patrol vehicles of large police departments. Getac has renamed Veretos as "Getac Video Solution"in the second quarter of this year for the purpose of accelerating brand building and reaching out to a considerable number of potential customers. Sales of Getac Video Solution will likely contribute 3% of the company's rugged computer revenue this year. Getac is cautiously optimistic about the new growth opportunities.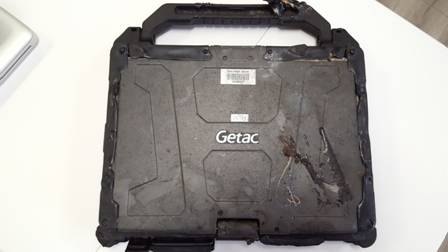 Battle-tested Getac rugged notebook computer

Getac solutions combining hardware and software deliver comprehensive values to customers.
DIGITIMES' editorial team was not involved in the creation or production of this content. Companies looking to contribute commercial news or press releases are welcome to contact us.