Gorilla deploys next-generation video analytics with AI-based recognition technology for smarter surveillance
Press release
Monday 25 September 2017
Gorilla Technology, a global provider of video intelligence and IoT technology, releases the Intelligent Video Analytics Recorder (IVAR) solution using the combination of ground-breaking real-time analytics and deep learning for facial and license plate recognition technology. The IVAR solution has the ability to track and provide valuable insights on people and vehicles for certain points of entry within residential, commercial, and public buildings. The software can easily be integrated to existing surveillance cameras and systems, enabling intrusion detection and watch list for enhanced security and operational efficiencies.
"Advanced video analytics will transform the surveillance industry as we collect and extract information to provide decision-enabling data for security and commercial purposes," said Dr. Spincer Koh, CEO, Gorilla Technology.
The newly released IVAR offers a range of video analytics features to deliver improved operational efficiency for security systems.
Intrusion Detection
Monitor and identify intruders in a restricted area or a perimeter with zone detection. Alert security staff using push messaging with captured images to reduce response times and increase situational awareness.
Watch List
Advanced biometric facial recognition system that automatically detects and matches faces based on stored data or preset watch lists to identify VIPs for building customer loyalty or unwelcome guests for blacklists.
Customized System
Schedule monitoring tasks of individual cameras to automate recordings and captures based on specific scenarios or security levels during various times of the day, such as operating and closed hours.
Multi-Channel Configurations
When combined with Intelligent Video Analytics (IVA), a single machine hosted on one edge gateway can be configured to run:
- Both video recording and IVA on 4 channels
- 16 video recording channels while 2 of the 16 channels run on IVA simultaneously
Centralized Timeline
Efficiently monitor and manage multiple feeds with integration of alert notification to view, search for event logs, and playback videos from a single adjustable timeline to identify issues quickly and reduce response times.
Gorilla is committed to defining the next generation video analytics with its latest development. Facial and license plate recognition technology used to capture and detect comprehensive data will be pivotal in delivering smarter video surveillance solution and security control.
The IVAR solution will be showcased at ASIS 2017, located at the Kay Bailey Hutchison Convention Center in Dallas, Booth #4069 from September 26 -28.
About Gorilla
Gorilla Technology, a privately held company established in 2000, is a global leader in video intelligence and IoT technology. It develops a wide range of video-centric and content management applications including smart retail, smart school, smart enterprise, smart surveillance, and broadcast media. With VeMo technology, Gorilla applies its machine learning and deep learning algorithms, enabling automation of digital streams processing and comprehensive video analytics to create value-added services for expanding business opportunities.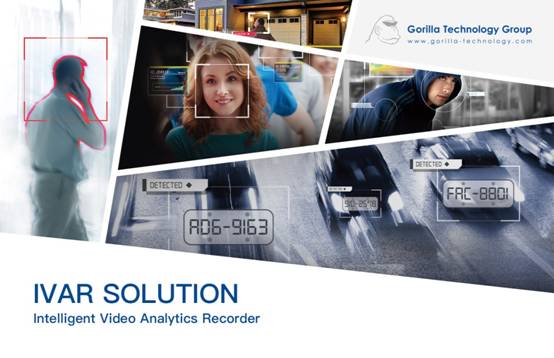 Gorilla Technology will release Intelligent Video Analytics Recorder Solution at ASIS 2017
DIGITIMES' editorial team was not involved in the creation or production of this content. Companies looking to contribute commercial news or press releases are welcome to contact us.