Gorilla demonstrates video intelligence facial recognition technology at WCIT 2017
Press release
Gorilla, the leader of Video Intelligence and IoT Technology, has been invited to showcase its cutting-edge facial recognition technology through its Smart Greeting Solution at the premier international IT forum, WCIT 2017. The Smart Greeting Solution applies facial video analytics and deep learning algorithms to identify VIP guests from the moving crowd in the event venues.
At WCIT 2017, Gorilla demonstrates the integration of its proprietary and patented to smart machines and embedded systems. The Smart Greeting Solution has the ability to scan and identify VIP guests from the thousands of walk-in visitors in real-time, by comparing facial features with the VIP guest profiles from the database. Once the system verifies the guest, a personal message will be pushed to a big screen to greet the guest.
Gorilla's latest facial recognition technology can be used in both open and constrained environments. In an open-environment, the system conducts watch list of the public area, captures facial features at any angle, and identifies authorized guests seamlessly from a distance while in motion without needing to interact with the camera which could be used for crime detection and monitoring public spaces, as well as delivering customer experiences that drive engagement for the retail and hospitality industry. The same biometric technology can also be utilized to enhance security and access control, which requires the identified person to stand still at a specific entry point for the camera to scan in a constrained environment. The solution offers scalable computing and efficiency to perform analysis based on a comprehensive database of profile information with facial features.
"Gorilla's comprehensive cloud computing infrastructure is designed to increase computing power and efficiencies to provide better performance and accuracy for deep-learning and video analytics technology," said Dr. Spincer Koh, CEO, Gorilla Technology.
Businesses are relying on the wealth of information collected by smart machines and embedded systems to make critical decisions, as they provide valuable feedback for improving processes and operational efficiencies. For this reason, the demand for intelligent video analytics will continue to progress and drive innovation as industries realize the benefits of data collection. These factors will ultimately contribute to growth opportunity for a range of applications and adoption across various industries.
About Gorilla
Gorilla Technology, a privately held company established in 2000, is a global leader in video intelligence and IoT technology. It develops a wide range of video-centric and content management applications including smart retail, smart school, smart enterprise, smart surveillance, and broadcast media. With VeMo technology, Gorilla applies its machine learning and deep learning algorithms, enabling automation of digital streams processing and comprehensive video analytics to create value-added services for expanding business opportunities.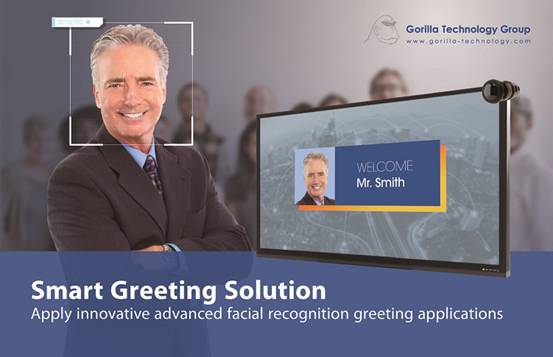 Identify VIP's from thousands of walk-in visitors. Send push notification greeting messages.
DIGITIMES' editorial team was not involved in the creation or production of this content. Companies looking to contribute commercial news or press releases are welcome to contact us.