USB certification ensures interoperability and consumer satisfaction
Sponsored content
Monday 19 June 2017
USB Implementers Forum (USB-IF) is a standards organization promoting the advancement and adoption of Universal Serial Bus technology for the last two decades. There are currently more than 900 member companies participating in USB-IF and nearly half of these companies are from China, Taiwan and Hong Kong.
This year, USB-IF and several exhibiting member companies showcased new USB developments and products in the USB Community booth at Computex Taipei, a longstanding, global electronics exhibition for ICT technology professionals and executives. We had the opportunity to speak with Mr. Jeff Ravencraft, USB-IF's President and Chief Operation Officer, and Mr. Rahman Ismail, USB-IF's CTO regarding the new developments and promotion around the USB Type-C specification.
According to IHS market research, USB Type-C is forecasted to dominate mobile devices, PCs and other consumer electronics, with an estimated two billion devices shipping into the market in2019. Combined with USB Power Delivery and SuperSpeed USB 10Gbps, the USB single-cable solution offers faster charging, higher data transfer rates and ease of use. Ravencraft highlighted USB Power Delivery and SuperSpeed USB 10Gbps that can enable OEM's to provide support for power up to 100W and data transmission speed up to 10 Gbps, all over a single USB Type-C connection. Given the complexity, power and performance capabilities, it is important for manufacturers to devote the necessary resources to build compliant products and submit them for testing by the USB-IF Compliance Program to achieve USB-IF certification.
This year, it is expected the number of USB Type-C enabled devices will reach mass volume shipments in mobile devices, desktops, entertainment peripherals and other multimedia devices.
Enabling the best charging experience via USB Type-C
As recent news has shown, consumers purchasing faulty products have experienced frustration. Now more than ever, consumers want to trust the USB products they purchase and USB-IF certification is the answer.
"Consumer satisfaction is paramount," said Ravencraft. "Non-compliant cables and power adaptors pose a risk to the functionality and interoperability of USB products. The solution is for manufacturers to certify their devices and for consumers to look for the certified USB logos when purchasing USB-enabled devices."
To combat cheap, non-compliant USB devices, USB-IF announced a new Certified USB Charger Logo and Compliance Program based on the USB Type-C and USB Power Delivery specifications. Together with the existing certified USB logos for data transmission, power and speed, the new Certified USB Charger logo will display the available power wattage within the logo. Companies with certified USB chargers may request logos displaying various power ratings. USB-IF anticipates the most common power ratings entering the market will be 15, 27, 45 and 60 Watts. In the long term, power ratings under 45W will have a big market potential considering the lower power consumption design trends.
Since a number of non-compliant cables have turned up in the market that are improperly designed and pose a threat to the devices and users, USB-IF released the USB Type-C Authentication Specification, which defines a cryptographic-based protocol for USB Type-C power adaptors, chargers and devices. Using this protocol, host systems can confirm the authenticity of a USB device including capabilities and certification status. This new authentication empowers host systems to protect against non-compliant USB devices and to mitigate risks from maliciously embedded hardware or software in USB devices attempting to exploit a USB connection before inappropriate power or data can be transferred.
USB Type-C Alternate Modes (Alt Modes) is defined in the USB Type-C specification which enables the multi-purposing of designated pins in the connector for alternate adaptors such as DisplayPort, HDMI, and Thunderbolt. The beauty of Alt Modes is that it enables a USB Type-C host or device to support other display specifications. This ultimately benefits consumers and systems designers, as a single connector reduces costs and increases system functionality.
USB-IF and IEC expanding cooperation to support USB Type-C connector in a Global market for device charging applications
USB Type-C and USB Power Delivery were developed with a vision of delivering universal power charging capabilities, to extend ease of use for consumers, and to reduce electronic waste by offering a standards-based alternative solution to proprietary chargers.
Mr. Ravencraft mentioned USB-IF has been working with International Electro-technical Commission (IEC) since 2013 to expand international standards cooperation to include the USB specifications. This cooperation supports global recognition and adoption of USB technologies in international and regional standards and regulatory policies including IEC 63002, IEC 62680 and IEC 62684 series. This approach for ongoing standardization work is driven by IEC's goals of increasing external power supply re-usability, supporting consumer convenience, maintaining product reliability and safety. In addition, widespread adoption of the resulting international standards will help to reduce the poorly designed or manufactured aftermarket substitutes, which may affect the operation of electronic devices in compliance with regulatory requirements.
Docking station fulfilling multiple needs
Various USB chipsets feature different functions of USB specifications. For users that are constantly moving from the office to the road, having a docking station connected to an external monitor, keyboard, mouse and Ethernet makes life so much easier. The USB Type-C connectors could unify the design of docking station and connect other devices through one single cable. For old USB ports, such as USB Type-A, Type-B, HDMI or DisplayPort, although these new docks don't work the same way, they still offer the same level of convenience. Smartphones or notebook PCs need only one USB Type-C connector to connect everything.
Leveraging USB Type-C, some of the docking stations implemented audio and 4K video output, allowing for data transmission and music at the same time.
USB Audio – an upbeat sound experience
USB-IF defined USB Audio over USB Type-C as the primary solution for all digital audio applications including headsets, mobile devices, docking stations, gaming set-ups and VR solutions. The benefits of USB Audio allow device manufacturers to consider eliminating the need for multiple ports (i.e. 3.5mm jack) and efficiently deliver data, power, audio and video over a single USB Type-C connector. USB Audio over USB Type-C provides a standardized approach to deliver compelling user benefits, device interoperability and ease-of-use across all digital audio applications.
In consumer electronics, TVs often use HDMI to connect with PCs, home theater systems or other peripherals. With USB Type-C becoming a popular industry standard connector, it is very convenient to design a cable with USB Type-C and HDMI. This enables two of the most popular solutions for connectivity to come together. The HDMI Alt Mode specification for the USB Type-C cable/connector will deliver native HDMI signals over a simple cable that is a USB Type-C connection at one end and HDMI connection at the other without the need for protocol or an additional connector adapters or dongles. This will enable PCs or smartphones to connect to the TV directly and support more entertainment systems in the future.
Virtual reality devices will be the next important application to consume massive data processing and transmission. USB Type-C is the last cable you will ever need for all your devices. Combining with 10Gbps data transmission speed and reversible plugging features, there is nothing like USB Type-C.
*USB Type-C and USB-C are trademarks of USB Implementers Forum.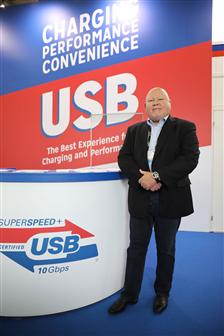 "USB single-cable solution offers faster charging, higher data transfer rates and ease of use. USB Power Delivery and SuperSpeed USB 10Gbps can enable OEM's to provide support for power up to 100W and data transmission speeds up to 10 Gbps," said Mr. Jeff Ravencraft, USB-IF President and Chief Operation Officer.