NXP aims to gain stronger foothold in smart home and connected car markets with its processor platform
Press release
Friday 9 June 2017
The rapid-evolving IoT devices are transforming our everyday interactions through richer human-machine interfaces, connectivity, and scalability. In particular, in the smart home and connected cars markets, the two major IoT applications, as Amazon's Alexa voice service fuels the development of a wide-range of voice-enabled smart home devices and the US will mandate DSRC (dedicated short-range communication) V2X technology by 2023, both of them have been given a strong boost recently. In response to the trend, NXP Semiconductors is well positioned to grab huge opportunities with its comprehensive processor platforms.
The Newly Upgraded i.MX 8 Series Processors
"NXP's i.MX 6 platform, which is already widely adopted in automotive, industrial, and consumer markets, has been upgraded to i.MX 8 with ARM v8 core embedded," Martyn Humphries, VP of consumer and industrial applications processors at NXP said. "Now we have three i.MX 8 families, i.MX 8, i.MX 8M, and i.MX 8X, targeting at high-end automotive and industrial, multimedia, and cost-effective applications respectively. The samples of these new processors are delivered to customers. It's expected that we can see new designs in the market by early next year. The progress is very important for NXP."
Take i.MX 8M as an example, Martyn pointed out that higher performance of voice, audio, and video is required to address the requirements for next-generation media IoT devices in terms of video streaming, audio streaming and immersive audio, and smart home functions.
The new trends include: video-watching experience has been quickly shifting from traditional STB to OTT, driving the huge demands for video-on-demand applications. Therefore, it is forecasted that IP video will represent 79% of all global traffic by next year. Meanwhile, 4K and HDR will also drive the need for updated equipment such as TVs.
As for audio, in order to enable immersive audio, the migration of DSP to ARM is driving the system architecture change. Also, with the advent of voice control, the market is fast moving from Bluetooth speakers to networked Wi-Fi speakers to be always connected.
"The development of various media IoT devices shows strong momentum with these new trends," Martyn stressed. "In order to help customers grasp the new opportunities, semiconductor providers should be able to provide rich reference platforms and build a strong ecosystem to speed up the time-to-market. And this what NXP is doing aggressively."
Surge of Voice-enabled IoT Devices
"The emergence of IoT and voice control is revolutionizing smart home, and machine learning and AI will further drive this market even higher," said Martyn.
"Driven by Amazon, Google, and other technology leaders, natural language learning has made significant progress over the past years. With the accuracy of automatic speech recognition reaching above 95%, voice control has become the most overwhelming interface for a wide range of smart home devices."
He believes that it's just at the beginning of the smart home revolution. Starting from only one voice gateway such as Amazon Echo at user's house, in the future, more home appliances, including lamps, coffee machines, and so on, will also use voice as an interface and to be connected with the cloud and home hub to provide more friendly services.
"Last year, we can only see Amazon Echo in the market. From this year, a lot more devices with voice control function have been launched rather than just speakers. Moreover, it's expected that AVS-enabled home appliances will be ready by end of this year."
In line with the trend, NXP teams with Amazon to create Alexa Reference Platform, helping third-party makers to easily integrate Alexa Voice Service (AVS) into their devices. Meanwhile, NXP also supports Google Assistant in its Android Things solution.
"It's a great opportunity for many appliance makers in Great China, in a bid to embrace the new era of smart home," he stressed. "NXP is now working with a tier-one branded company to launch new product by end of this years. It's expected that it will become one of the hottest gifts for the coming holiday season."
Market Leader, Focusing on V2X, ADAS New Opportunities
In the automotive market, according to Jerwern Yi, Automotive MicroProcessors Marketing Director at NXP, driven by the demands for seamless connectivity, safety driving, and energy efficiency, automotive electronics has been quickly innovated, in a bid to move from improving the sensing and computing capabilities for cars to gradually reach the ultimate goal of autonomous driving.
With strong leadership, NXP's worldwide market share in automotive electronics increased 8% to 34% last year and is expected to keep growing this year. "Our excellent performance is a result of accurate growth strategies, including developing common technology platforms, adopting leading-edge processes to enhance IC performance, strengthen software competence, and targeting at the emerging safety, security, and connected applications," Yi said.
NXP provides complete solutions in the area of V2X, ADAS, connectivity & security, general purpose and integrated solutions, and vehicle dynamics and safety. As for ADAS, radar, lidar, camera, and sensor fusion solutions are already available.
In order to implement the sensing capability with external environment for cars, V2X has been one of the key areas of connected car applications. Yi pointed out that the DSRC standard that the US will mandate is a low-latency 802.11p communication technology. NXP's solution has been selected by Cadillac, which will mass produce vehicles that support DSRC standard in about two years. Also, with strong ecosystem partnerships, NXP initiates multiple V2X test projects in Singapore, Germany, and China to speed up the wide adoption of this technology.
As for the highly discussed autonomous driving topic, "Currently, the automotive industry is in the Level 2 stage in terms of automation level. To reach the Level 5 of full automation, we need to address a lot of challenges in computational performance, power, safety & security, data bandwidth, and more," Yi said. He suggested companies should go back to the basics to the most needed L2+/L3 technologies.
To cope with the automotive security issue, NXP has come up a "4+1 Solution" concept to cover from secure interface, gateway, to network and processing, plus the secure car access, to establish a complete security framework for future smart cars. Meanwhile, NXP is working with China's Ministry of Industry and Information Technology and Chang-An Automobile Group to push the standardization for automotive security.
With the in-depth understanding of the stringent requirements for safety, security, and reliability in automotive, NXP takes a more pragmatic strategy. "With our leadership position in the market, we will keep abreast of the latest developments and move steadily to L3/L4 products first. It's for sure that NXP will definitely play an integral role in the future connected car market," Yi said.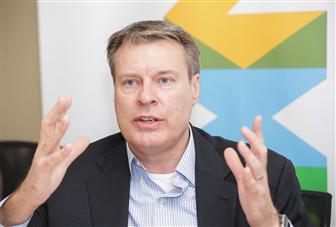 Martyn Humphries, VP of consumer and industrial applications processors at NXP, provided insights about smart home revolution and NXP partnership details with Amazon and Google on Alexa and Google Assistant.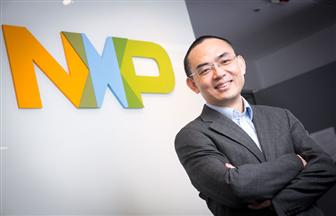 Jerwern Yi, Automotive MicroProcessors Marketing Director at NXP, shared NXP's marketing strategies of connected cars globally and in Greater China, NXP latest automotive microprocessor product roadmap, product portfolio and platform.