Conexant prevails in the voice as an interface market
Press release
Wednesday 31 May 2017
Driven by Amazon Echo and its Alexa Voice Service (AVS), voice has quickly become the most compelling user interface in a wide range of smart home and IoT devices. After working with Amazon to launch its 2-mic development kit for Amazon AVS last December, Conexant has successfully gained a strong foothold with its AudioSmart technology in the voice as an interface market. Now, with the availability of its new 4-mic development kit for AVS, Conexant will further expand its presence in the market and is ready to embrace for the tremendous opportunities ahead as the voice-enabled revolution expands.
The only development kit provider for Amazon AVS
"It's a big honor for Conexant to be the only development kit provider for Amazon AVS," Saleel Awsare, President of Conexant, said, when asked about the cooperation with Amazon. "Amazon has evaluated many solutions and the reason that we were chosen is due to our comprehensive and excellent voice processing technologies, including our processor DSPs, CODECs, and software."
He explained that enabling speech recognition and voice control from a distance in smart platforms requires overcoming substantial challenges related to echo cancellation, background noise, microphone speaker position and more.
Conexant's far-field voice input processor solution for voice interactive devices is an industry first. It can separate voice commands from background noise so that the speech recognition engines hear user commands as clearly as possible, which in turn provides a far more accurate voice-enabled experience, even in noisy, real-world conditions, up to several meters away from the target device.
"Building upon the momentum with the launch with our 2-mic solution for AVS, the introduction of our 4-mic solution fully demonstrates that our technology has been well received by Amazon", Awsare pointed out.
At the heart of the newly-announced 4-mic development kit for Amazon AVS is Conexant's AudioSmart CX20924 Voice Input Processor running Conexant's far-field voice pre-processing software technology. Similar to the 2-mic voice Input Processor, CX20921, Conexant's far-field voice input processor focuses on the user's voice and removes echoes and noise from the audio signal, providing clear voice requests for speech recognition processing.
Additionally, the 4-mic Development Kit for Amazon AVS comes equipped with Conexant's CX22721 Low Power Audio Playback CODEC that can power small speakers and be tuned for optimal audio quality for music and Alexa voice prompts.
Another key enhancement Conexant incorporated into the 4-mic solution is its Smart Source Locator (SSL) technology. This solution provides many benefits, such as giving the voice processor the ability to focus in on the direction from where the user's voice is coming.
Combining SSL with Conexant's Smart Source Pickup (SSP), that provides 360-degree noise suppression, translates to higher speech recognition accuracy. This is especially helpful in challenging environments where there are noises emanating in the room, such as from a TV, radio or phone.
"CES 2017 serves as proof that the voice revolution is at full stride, with voice as an interface being one of the hottest trends in tech this year. Conexant's next-generation AudioSmart voice processing solutions have become the de facto standard for developing CE devices capable of providing excellent far-field voice performance and unrivaled speech recognition accuracy for cloud AI engines like Amazon Alexa, Microsoft Cortana and others," Awsare stressed.
"Conexant's 2-mic and 4-mic development kits for Amazon AVS are suitable for hands-free and omni-direction, far-field products respectively. Therefore, with our collaboration with Amazon, we are able to help thirty-party developers and manufacturers easily integrate Alexa into their products and achieve far-field performance at a lower cost."
As voice as an interface has become one of the key differentiation factors for smart home devices, Awsare is very optimistic about the widespread adoption of Conexant's technology to make it more pervasive.
Multiple design wins
In fact, Conexant has already gained multiple design wins over the last few months by the explosive growth in third-party devices with Amazon Alexa featuring Conexant's voice processing solutions.
According to Awsare, Conexant already has more than 40 design wins based on the 2-mic and 4-mic solutions for AVS and it includes a wide variety of devices, such as home appliances, robots, home audio/video (eg: set-top-boxes, speakers, soundbars, etc.), home networking devices, security devices, and toys.
Meanwhile, Conexant has also made inroads into those who develop their own voice virtual assistant / artificial intelligence (AI) technologies. Conexant had announced that SK Telecom, Korea's largest mobile carrier, is implementing AudioSmart far-field voice solutions in its NUGU smart speaker. The two companies have been working together to produce the first smart speaker capable of natural language processing of Korean language and enable the device to hear users accurately from a considerable distance and in noise.
Korean telecom corporation, KT, also utilizes Conexant's far-field voice input processor in its GiGA Genie voice-controlled virtual assistant media hub, which is a product that combines the convenience of having an advanced AI-infused personal assistant, media hub and video conferencing system. With Conexant's advanced voice process technology to filter out ambient noise, KT's AI service's speech recognition and natural language interpretation accuracy can be largely boosted.
In addition to these, ASUS' recently-announced Zenbo Robot also utilizes AudioSmart software.
As for the China market, Awsare said that they are now in talk with the top Internet service providers and a major announcement will be made in a few months.
Awsare stressed that what sets Conexant apart from competitors is that it is the only company in the market that has built a complete end-to-end solution that includes hardware CODECs, smart amplifiers, input processors, output processors, software, and can combine that with their engineering know-how.
"We have seen strong momentum in the development of voice-enabled devices, and Conexant will definitely play a key role to enable this trend with our unique far-field technology."
"Eyeing on the great potentials of the voice as an interface market, we have invested heavily in software and hardware development over the past years. This recent growth of third-party hardware makers adopting Alexa functionality certainly feels like the start of a larger trend. We have a robust technology roadmap that will allow us to keep improving the performance of our technologies."
Another key driver for Conexant's recent growth is in the headset market. "Conexant dominates the gaming headset space," said Awsare. "Also, as headset manufacturers move towards the new USB-C standard, our latest CODEC solutions are designed to give headset makers a competitive edge in the emerging headphone category, and can help them confidently transition away from traditional analog audio."
Conexant's USB-C CODECs enable headphones to benefit from having power and a digital audio signal available to them, as well as the ability to transmit data directly from the cable. Awsare also disclosed that Conexant is now working the leading search engine company to provide USB-C headsets for its new smartphones. With these significant progresses, Awsare is very confident that Conexant will be able to expand further and keep its leading position in the market.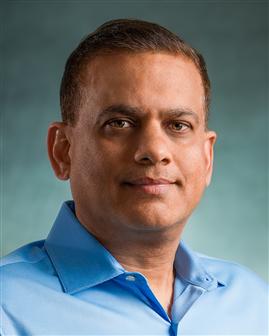 Saleel Awsare, Conexant president

Conexant's AudioSmart technology will make voice interface more pervasive in a wide range of smart home and IoT devices.