Unitech PA720 rugged Android handheld computer wins prestigious iF Design Award for product design
Press release
Unitech is proud to announce that its newest Enterprise PDA, the PA720, has won the 2017 iF Design Award in recognition of its outstanding product design. At an awards ceremony held in Munich, the PA720 was selected by a panel of about 60 leading design experts as one of the winners of the top accolade. This year's competition saw a total of 5,500 products submitted from 59 countries.
The PA720 is Unitech's flagship handheld computer and the successor to its industry-leading PA700 Android device. Rugged and built to last, the PA720 is an extremely user-friendly handheld device with a powerful set of data collection tools, including integrated barcode scanner and dual high-resolution cameras. Built on a compact and powerful quad core platform, the PA720 runs Android 6.0 with full wireless capabilities in a sleek, ergonomic and rugged enclosure designed to withstand the rigors of the retail, hospitality, warehouse, service and delivery industries.
For more than 60 years, the iF Design Awards has been one of the premiere design competitions in the world. Organized by iF International Forum Design GmbH of Germany, the guiding principles behind the awards has been to identify, support and promote good design and to raise awareness of design among the public and the role it plays in consumers' lives.
Unitech is a global provider of data collection technologies. We develop a broad range of scanning and computing devices to help businesses reach new levels of efficiency and productivity. Our corporate commitment to customer service focuses on delivering technology solutions that continuously improve the way our customers work.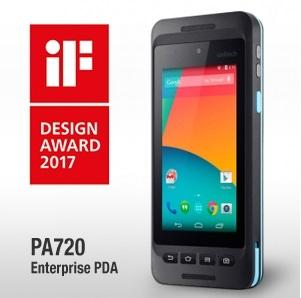 The new Unitech PA720 rugged Android handheld computer wins prestigious iF Design Award for product design.