Nice and easy: IntervalZero speaks on cardless smart controllers
Sponsored content
The need for optimal synchronization between command and execution systems is increasing as electronic forms of transmission replace face-to-face and paper-based transmissions. With the emergence of the Internet of Things (IoT) and the evolution of corporate networks the demand for solutions delivering deterministic, hard real-time functionality has soared.
IntervalZero, Inc. (http://www.intervalzero.com/) is a good example of a company providing these solutions. It develops a native hard real-time operating system (RTOS) with symmetric multiprocessing. This RTOS, called RTX or RTX64 for 64bit, adds real-time functionalities to Microsoft's general purpose Windows OS.
At the recent Digitimes Embedded Technology Forum (DTF) titled IoT equipment and embedded automation system design technologies, IntervalZero Taiwan Branch senior software development engineer, Yves De la Broise, provided an introduction on how it is not only possible but also simple to develop an inexpensive yet powerful real-time automated control system using IntervalZero's KingStar platform (http://www.kingstar.com/). This platform is currently popular for developing robotic arms and industrial automated machines, as it is easy-to-use and greatly helps to reduce costs.
IntervalZero's embedded software solutions are deployed worldwide in many different fields, such as industrial automation, military, aerospace, medical devices, digital media and test & measurement. Data on the usage shows that nine out of the top-10 aerospace & defense companies worldwide are IntervalZero customers, as is a top-2 industrial PLC manufacturer, seven of the top-10 medical device manufacturers, five of the top-15 auto manufacturers, a top-5 test & measurement company, three of the top-10 industrial control suppliers, two leading full-flight simulation companies, two top digital mixing console manufacturers, three leading semiconductor equipment makers and more than 20 top machine tool manufacturers.
With over three decades of expertise in real-time embedded computers, a worldwide customer base and strategic relationships with Microsoft and Intel, IntervalZero continues growing. To maintain innovation and diversify its revenues, IntervalZero has developed a cardless platform called, KingStar, which allows users to save AD/DA, Motion or Vision card costs, as well as replacing expensive cables with Ethernet. Based on RTX, De la Broise says it maintains the highest levels of reliability and performance. This was proven when Siemens earned a TÜV SIL-3 safety rating for their soft-PLC WinAC RTX F without the need for any specific hardware.
De la Broise explained that the KingStar platform is easy-to-use and allows for cost reductions while maintaining the highest performance and reliability, as it takes advantage of the most leading technologies available on the market. It features x64 multi-core processors which allows for the isolation between the real-time control in RTX64 and the interface under Windows on the same computer natively (without needing any virtualization). This architecture also enables the use of many cores and RAM space in real-time symmetric multi-processing for high-end vision and flight simulation applications.
KingStar also uses the EtherCAT protocol for communication. This motion and automation protocol developed by Beckhoff is an open standard and is widely adopted by motor manufacturers in Asia. Performance is optimized and scalable, as it can support hundreds of stations in one network and maintain very short cycle times (~100us), or dozens of stations while keeping the stations synchronized (at a jitter <1us).
Improved automation removes many limitations and enable the computer to perform more tasks. One example is the development of robotic controllers, the card-less solution provided by KingStar allows the controller to be more performant by easily gathering position, velocity and torque information from the hardware. It also renders the controller more scalable, as it can control one or multiple robots without any hardware modification in the computer. The application also becomes much simpler as every motor in the machine can be connected to a single controller, thus removing synchronization issues between the different components.
IntervalZero is determined to make systems simpler and easier to maintain, saving time and money. It is time to discover this new approach to technology development that cuts down the amount of resources needed for development and testing.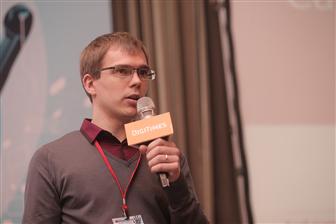 IntervalZero Taiwan Branch senior software development engineer, Yves De la Broise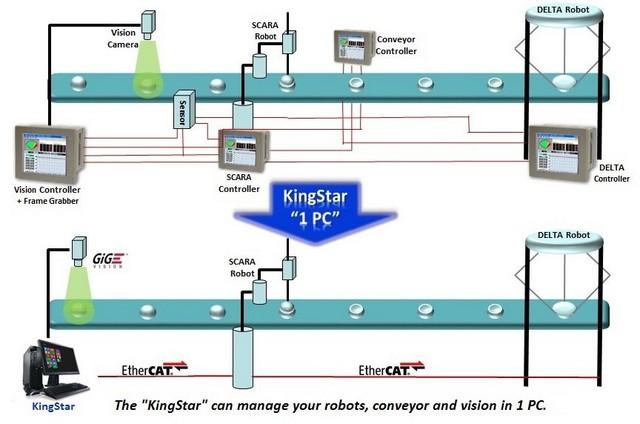 The "KingStar" can manage your robots, conveyor and vision in one PC.