Gaining an advantage in emerging markets: Q&A with India-based handset player Micromax
Colley Hwang, Taipei; Steve Shen, DIGITIMES
Sales of handsets in the India market reached 61.07 million units in the first quarter of 2014, with smartphones accounting for 17.59 million units or 28.8%. Notably, smartphone sales showed a 186% on-year growth in the first quarter compared to a 31% growth recorded in China, indicating rising growth momentum in India, according to IDC. The market research firm expects smartphone sales in India to top 80.57 million units in 2014, with a CAGR of over 40% in the next five years.
Despite booming sales, a total of 78% of smartphones sold in India are tagged below US$200. Meanwhile, local brands are emerging as major players, with Micromax, Karbonn and Lava taking a 15%, 10% and 6% share, respectively, to serve as the second, third and fourth largest vendors in India, trailing after only Samsung Electronics (35%). Under such circumstances, is there room for Taiwan-based handset vendors or related handset component suppliers to make further deployments in India? Digitimes president Colley Hwang met with Micromax co-founder Rajesh Agarwal to discuss this issue and gain insights about the India market.
Q: Could you talk about the major milestones for your companies in the past few years as well as your strategies for the future?
A: Micromax started from scratch to become the top handset vendor within just a few years. We shipped 25 million handsets in 2013 and expect to sell 40 million units in 2014. Give us some more time we will have an opportunity to enter the world's top-10 vendors list.
In the market place, Micromax has become a well-known brand in India and tends to also become the best platform for foreign products to use as a channel in the India market. We believe that any solutions available worldwide can make an entrance into the India market through Micromax's sales channels, and Micromax also does not confine itself to the handset business.
Q: Could you also talk about the current status of India's handset market, and what are the strategies being adopted by Micromax to approach the market?
A: We currently import about three million handsets a month from China, accounting for a significant portion of the monthly imports of 21 million handsets by India on the whole. Not only consumers are sensitive to pricing, the ever-declining ASPs have also continued to mount pressure on handset vendors. Micromax's ASP for handsets stood at US$60-70 in 2013 and is expected to drop to around US$55 in 2014.
Q: China-based brand Xiaomi Technology has just made inroads into India. How do you assess the competitive pressure that China-based brands will bring into the India market?
A: Xiaomi indeed has come out aggressively, but China is China and India is India, as social and cultural conditions of the two nations are not identical. For example, channel operators in India seldom leverage online marketing, and after-sale service support networks are one of the major advantages local brands have. The hunger marketing used by Xiaomi in China is not necessarily applicable in India. Micromax will win over Xiaomi in India as we have the ability to compete effectively with Samsung.
Micromax posted revenues of US$1.2 billion in 2013 and is likely to ramp up its revenues to US$2.0 billion in 2014. To meet market demand more flexibly, Micromax has also been trying to manufacture handsets in-house. We are now importing SKD products from abroad for production of up to 600,000 units of mobile devices a month. We aim to control more value from production processes and we are also assessing the value to be generated from other segments, such as online networks and software.
Micromax will focus on four strategic segments: Internet, handsets, smart TVs and LED products. The Internet is everywhere, whether it is for marketing or rendering value-added services. Micromax will pay strong attention to any online services which are instrumental to its business expansion and will look for proper opportunities to participate in these businesses.
For the handset business, as we have been the number one local brand in India, we certainly will continue to optimize this advantage. Micromax has not only continued to deepen its deployments in India but we have also moved aggressively into neighboring countries including Bangladesh and Sri Lanka. Micromax now serves as the second largest handset vendor in these two countries. In addition to markets in South Asia, we are also looking for opportunities to make inroads into the Russia market, and also aim to hold a comprehensive advantage in emerging markets.
Micromax believes that smart TVs serve as a key element in building a complete IT industry ecosystem. We will look for cooperation partners in the smart TV sector, and Taiwan-based makers may serve as the best partners. Micromax plans to go to public in 2015 and thus we will have more room to seek cooperation partners prior to being listed. Of course, we will be a worthy partner for Taiwan-based companies to approach for cooperation talks. While we believe that Taiwan could be the best partner for us, we do not yet have the whole picture regarding to how strong the ambition Taiwan's companies have for building up a handset supply chain in India.
Micromax has held cooperation talks with a number of Taiwan-based companies including BenQ, but nothing has been ever finalized. A lack of in-depth understanding of each side has made the previous industry meetings empty talks. But now since the market environment has become more mature, companies from Taiwan and India may be able to find a new cooperation model.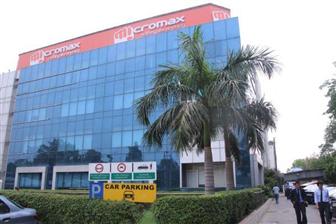 Micromax headquarters in Gurgaon, India
Photo: Colley Hwang, Digitimes, August 2014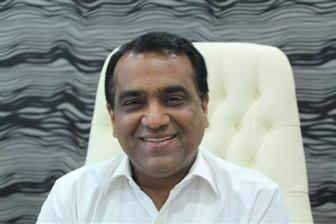 Micromax co-founder Rajesh Agarwal
Photo: Colley Hwang, Digitimes, August, 2014