Unifying mobile interfaces: The prospects of USB technology
Sponsored content
Friday 27 June 2014
USB 3.0 provides 5Gbps of data throughput, which is 10x faster than USB 2.0, and USB 3.0 provides additional power for charging mobile devices. It has been rapidly adopted into all mainstream PCs and many peripheral applications today. While USB 3.0 breaks new grounds and enables several new applications, there are still some areas where USB 3.0 does not provide enough performance, and that is when dealing with fast SSD and UHD video transmissions. With various other transmission interfaces, such as the MHL, HDMI, Display Port, Wi-Di/Wi-Gig, and Thunderbolt, facing challenges, the USB-IF has developed the next-generation USB 3.1 specification that provides a 10Gbp transmission speed and has also developed a new USB connector specification called Type-C that is optimized for mobile devices. The new connector is able to provide enhanced video and audio transmissions as well as increasing the charging current. With the combination of USB 3.1 and the new connector, mobile devices may become unified with a common interface.
PC is transitioning towards personalized computing
David Hsu, Associate VP of Product Marketing for VIA Labs, Inc. (VLI), indicated that VLI has positioned itself as a USB 3.0 market leader for the past five years. The USB Type-C connector has generated much buzz in the industry and was actually jointly proposed by Apple, Google, Intel, and Microsoft to the USB-IF Association based on the mobile device trends. And VLI was the only IC firm from Taiwan invited to discussions arranged by USB-IF.
While there has been much speculation about the possibility of the personal computer (PC) market consolidating with only tablets and notebooks remaining, Hsu believes that the trend of the future should be observed in terms of personalized computing. All of the mobile devices are still actually based on the PC platform with CPUs, chipsets and peripheral support. But it's like buying a car: consumers' needs will give rise to various additional purchase choices.
Pros and cons of various interfaces: An attempt to create the perfect peripheral connection
Hsu mentioned that today's tablets already have four-core or even eight-core CPU computing capabilities. The only difference is that tablets do not have the powerful peripheral expansion capability as that of PCs or notebooks. If USB 3.0 hubs can be used to connect the related peripherals, tablets can do any work that any PC or notebook can do. Hsu showed a table comparing the applications and conveniences provided by the various peripherals. The widely known consumer interfaces currently on the market are HDMI, Display Port, MHL Wi-Di (Cast), Bluetooth, Wi-Gig, Dock Port, and Thunderbolt. The list provided compared these interfaces in terms of data transmission, audio transmission, video transmission, power charging, peripheral input, hardware cost, etc. The results indicated that each interface has its own strengths and application preferences, but they are still not perfect when compared to the USB 3.0 and USB Type-C connector.
USB 3.0 performs better in terms of data transfer, audio, external power supply, and peripheral input; and its hardware cost is low. The only area where it has mediocre performance is in video transmission, where CPU compression is required. The new USB Type-C connector has made significant improvements on video transmission, and can synchronize data transmission and sound/video output without delay. It supports stronger charging functions, and is expected to become the unified and perfect peripheral interface choice that can satisfy all of the application needs.
Current market conditions of USB 3.x and the new USB specifications
Hsu indicated that the transmission speed of USB 3.1 will increase to 10Gbps and will adopt the 128b/132b encoding. The theoretical transfer rate is 1 GB/s, which is 2.4 times faster than the actual tested speed of 400MB/s provided by USB 3.0 with 5Gbps and 8b/10b encoding. The new USB Power Delivery (UPD 2.0) can provide 5/12/20V of voltage and 3/5A of current output, with the overall charging power at 35/65/100W.
The newly designed USB Type-C connector can integrate the user experiences and offer "one connector for all mobile devices." Its interface size is 24-pin, 8.3 x 2.5 mm, supporting tens of thousands plug times and having waterproof and non-directional plug-and-play features. The type-C connector supports 5V/3A output (15W), and can provide an even higher power charge output when additional power delivery chips/circuits are used. It does not need OTG controller chips to perform USB primary/secondary control switching, can directly incorporate DisplayPort signals, and supports UHD (3840 x 2160) video output.
VLI will launch USB 3.1-related products this year and is expected to launch Type-C connector products next year. Type-C will bring significant convenience in the future for mobile phone and tablet users. A single port that can transmit data, high-definition videos and audios to both mobile phones and tablets, as well as providing fast power charging.
VLI's hub chips roadmap
Currently, in terms of USB 3.0/3.1 hub product planning, VLI has already begun mass producing the VL811+ chip for the USB 3.0 four-port hub that supports smart charging. Based on the same designs, the VL812 chip also contains built-in DC-to-DC transformer circuits. Before the USB 3.1 Type-C specification was finalized, VLI already proposed the VL210 chip to develop the fourth generation hub products. This product will have one USB 3.0 and three USB 2.0 ports. The target market segment is docking station devices for smartphones and tablets to provide excellent charging capabilities while integrating the human interface device (HID) controls. Users can have a universal docking station that is not restricted by an organization; provides USB 3.0 to VGA output as well as USB audio output; accepts touch panel/keyboard/mouse inputs; and supports OTG as well as the USB host ACA charging functions.
It is anticipated that the VL818 chip launched by the end of 2014 will have a built-in 100/1000 Mbps Ethernet and provide a 5Gbps 4-Port hub, SD 3.0 card reader, smart charging functions, and intelligent control features. VL820 will be launched in the first quarter of 2015, which will support USB 3.1 4-port products.
Hsu stressed that VLI has won the official Know Good Hub (KGH) certification by the USB-IF Association two years in a row as well as Microsoft's Windows 8.1 and Windows RT WHQL certifications. VLI has launched the WHQL-certified Microsoft USB Test Engineering Board (SuperMUTT Pack) for R&D on its official website for US$249.
Finally, Hsu mentioned that there are currently SDP, CDP, DCP, and vendor-specific USB charging specifications. The main focus of the exclusive charging specification is charging modes that provide greater than 1.5A of current. The VP200 charging chips mass produced by VLI adopt the 16QFN (3x3mm) package design; have the Power Switch/Data Switch circuits, adjustable current limits, auto-detected D+/D- modes; support the BC 1.2 DCP/CDP/SDP protocol as well as Apple 2.4A and Samsung's fast charge models. They can be used as USB fast-charging ports in desktop and notebook PCs.
In addition, the VP201 charging chips adopt the ESOP 8 package with automatic current limit adjustment and large current power drop compensation features. They support DCP models as well as Apple 2.4A and Samsung 1.2V models. They can be applied to car chargers, power chargers, mobile power banks, and charging stations. It is anticipated that VP202 samples unveiled the third quarter will adopt the SOT 23-6 package. They provide exclusive dual-port USB charging electrical control circuit, support DCP models, Apple 2.4A and Samsung 1.2V models. They can be applied to car chargers, power chargers, mobile power banks, and charging stations.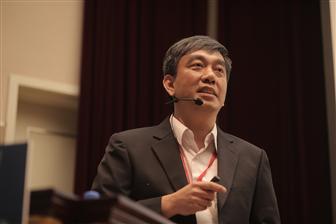 David Hsu, Associate VP of Product Marketing for VIA Labs, Inc.