SiTime 32 kHz MEMS TXCO targets wearables: Interview with founder and Chief Scientist Dr. Aaron Partridge
Sponsored content
Thursday 26 June 2014
Wearable devices have become a fast growing segment. Global technology pioneers are moving quickly to introduce new products such as smart glasses and smart watches. The first generation of connected wearable devices is paving the way for more sophisticated products and new applications. Top tech brands are not sitting idle while others seize the market. This booming new market has attracted attention with investments and growing resources to develop new products. The new era of wearables has only just begun!
Like all digital electronic devices, wearable devices depend on clock timing signals that send electronic pulses to MCUs or other key components that enable functions within a system. The clock signal is in essence the digital device's heartbeat, serving to trigger and coordinate complex processes that occur in various digital electronics. This signal must be absolutely stable and steady. There are more and more mobile devices equipped with more than one clock signal, which brings increasing demands for timing components. According to a variety of research reports, the timing components market is 5 billion US dollars. This is a huge market and it is attracting companies that offer new technology. SiTime is the one of the companies offering new timing solutions that are dramatically better than legacy quartz products. SiTime, with it's recently introduced 32 kHz MEMS TCXO (temperature controlled oscillator), is ready to seize market share.
The 32 kHz oscillator generates a frequency of 32768 Hz which can be divided by two 15 times to get 1. To make this 1-second counting period as accurate as possible, a precision 32 kHz oscillator is needed. The 32 kHz quartz timekeeper was developed in the early 1970s and its use was boosted by the popularity of quartz digital watches sales in the 1980s. Forty years have passed and most oscillators still use the common quartz crystal.
Fast forward from yesterday's quartz watches to new emerging wearables. New wearables are a perfect application for a precision 32 kHz timing solution. The system design typically needs two 32 kHz reference clocks; one for the Bluetooth or BLE chip's sleep clock and one for the MCU's Real Time Clock (RTC). A sleep clock is the reference clock that runs while the rest of the system is idle, hibernating, or turned completely off. Most systems require a reference clock that's always running to drive the system's RTC so to track time. In systems that include some form of wireless connectivity, the 32 kHz sleep clock is used as the low‐power reference clock when the wireless subsystem (e.g., WiFi, BT, BLE) is not operating.
The more accurate these reference clocks are, the longer wearables can stay in sleep mode to lengthen battery life. This is especially important in wearable applications which have a very small battery (e.g., 300mAHr capacity), do not have the same network connectivity requirement as a smartphone, and are extremely space limited. A MEMS TCXO is ideally suited for this application. Temperature compensation in the TCXO provides frequency stability that makes the clock much more accurate; and MEMS timing technology provides the small size and other benefits that fit the needs of wearables.
Dr. Aaron Partridge, the founder and Chief Scientist of SiTime Corporation, recently revealed in an interview how his company, the leader in MEMS timing, is responding to new market opportunities with products that enable emerging wearables. With 80% market share and over 200 million devices shipped, SiTime is driving the electronics industry's transition from legacy quartz to silicon-based MEMS resonators (X), oscillators (XO) and TCXOs. The company's latest innovation is the new SiT1552 MEMS TCXO (http://www.sitime.com/products/32-khz-oscillators/sit1552), the smallest, lowest power 32 kHz TCXO.
MEMS timing solutions leverage the benefits of high-volume semiconductor manufacturing processes and quality
MEMS timing components enjoy the benefits of high precision standard foundry manufacturing process, which provide economies of scale, better performance, lower cost, and greater scalability. As the semiconductor industry continually migrates to new process nodes, MEMS companies which use a fabless semiconductor model, leverage these investments to continually improve lead times, supply stability, product reliability. This allows MEMS companies the ability to offer the right combination of price and performance. These unique advantages will make wearable devices more affordable and allow wearable companies to be flexible and responsive to customer demands. This is a key successful factor for companies entering new emerging market segments such as wearables. Another benefit of silicon MEMS timing is quality and reliability. When comparing MEMS TCXOs with similar quartz TCXO components, the MEMS TXCO has 30 times higher shock resistance and 15 times higher reliability at 500 million hours MTBF.
MEMS small form factor and power consumption, plus 5ppm frequency stability, beat traditional quartz timing components
SiTime MEMS oscillators combine a MEMS resonator chip with a reliable controller IC in a multichip module. Using a separate MEMS resonator and oscillator IC allows for optimizing the MEMS and CMOS processes to offer higher performance and reliability. In the case of the SiT1552 TCXO, the MEMS resonator die is mounted to an analog oscillator IC within a 1.5 x 0.8 x 0.55H mm chip scale package (CSP), which is 20% smaller and 45% thinner compared with a quartz TCXO. The SiT1552 TCXO delivers 5 PPM frequency stability over -40 to +85 degrees C. In terms of power consumption, this MEMS TCXO consumes 50% of the power of comparable quartz devices, resulting in longer battery life of mobile devices and wearables.
The first digital watch, the Pulsar by Hamilton, was introduced in the 1970s. Forty years ago, we witnessed the emergence of quartz digital watches which were a revolutionary change in the clock industry. Today, the wearable market is in its infancy and it is too early to predict all the promising new developments that will come. But we do know that MEMS timing solutions are the revolutionary change in today's timing market - providing new system architectures that offer higher performance, smaller size and longer battery life. This trend is gaining momentum and enabling huge changes within the industry.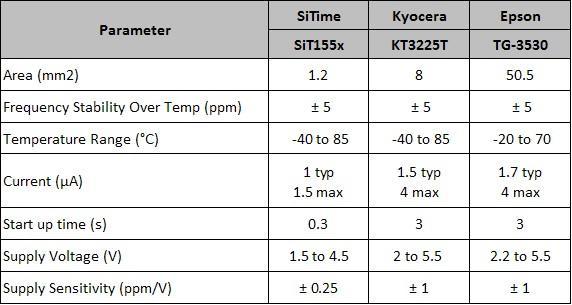 Comparison chart of SiTime MEMS TCXO and Japanese quartz TCXO
DIGITIMES' editorial team was not involved in the creation or production of this content. Companies looking to contribute commercial news or press releases are welcome to contact us.