IPC & Embedded Expo 2014 registration is open now
Press release
Friday 6 June 2014
In August 2014, IPC & Embedded Expo 2014 will be held in Shenzhen, Beijing, Shanghai and Chengdu. As the only large-sized technical exhibition focused on the IPC and embedded fields in China, IPC & Embedded Expo will be working with leading global enterprises - such as Advantech, Artesyn, Congatec, Comstar, EVOC, Jetway, LEXSystem, Norco, Apacer, ADI, Freescale, Fujitsu, Microchip, Renesas, ST, TI, Xilinx and so on - to fully exhibit a variety of embedded technologies including X86, ARM, MIPS, ASIC, FPGA and GPU, etc. as well as their innovative applications in various vertical industries in order to meet the increasingly diversified requirements for specialization in different industries.
Registration for the event is open to press and guests seeking the latest intelligence on IPC and embedded tech. During the exhibition, seminars themed on hot topics such as medical electronics, smart home, motor control, smart metering and industrial communication will be held. Senior experts engaged in the fields of automation, network communication, security/monitoring, medical electronics, automotive electronics, digital signage, railway transportation, smarter city, Internet of Things (IoT) will be invited to provide their professional interpretation on how embedded technology can meet diverse specialization requirements for various industries, and lead the industries into an intelligentization revolution.
Frank Yuan, CEO of Comstar Technology, commented: "Participating in the IPC & Embedded Expo had positive effects on our brand promotion. We wish the expo would have a larger scale in the future."
Wang Xiaohua, Project Manager of Midea Group, commented: "The Internet of Things is the development trend of future products and will have hundreds of billions of industry scale in the future. After participating in the expo, I learned something new, met many new suppliers and got new ideas about the development of our subsequent products. I hope the expo will continue and grow more and more successful."
IPC & Embedded Expo 2013 Review
IPC & Embedded Expo 2013 was held in Shenzhen Convention and Exhibition Center from August 1 to 3, with total area of 11,000 square meters. The IPC & Embedded Expo 2013 attracted more than 146 exhibitors, about 60 media establishments at home and abroad reported the event, and over 12,000 professionals visited the tradeshow during the three days.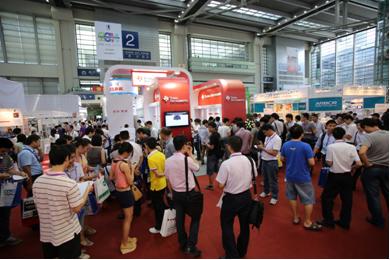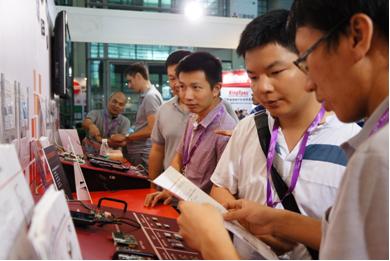 Photo: Company